Lechonk Pokédex Information
Lechonk first appeared in the games Pokémon Scarlet and Violet which released in November 2002. 
Lechonk is a four-legged character that is based on a pig. It has a grey body, head and legs with a curly tail. Its face is brown as are the tips of its ears. It has a large pink snout and pink trotters. It searches for food all day. It possesses a keen sense of smell but doesn't use it for anything other than foraging.
Contents
Lechonk Pokédex Facts
Evolutions
Lechonk Pokédex Entries
TCG Cards
Lechonk Pokédex Facts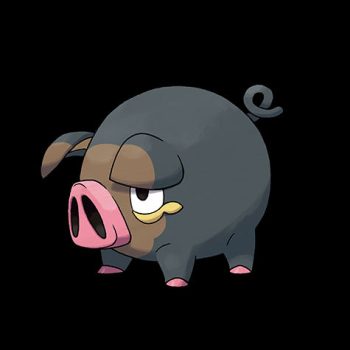 English Name – Lechonk
Japanese Name – Guruton
First Appearance – 2022 (Pokémon Scarlet and Violet)
Generation – IX
Pokédex Number – 0915
Based on – Pig
Category – Hog
Height – 0.5 m
Weight – 10.2 kg
Gender – Male, Female
Type – Normal
Weakness – Fighting
Special Ability – Aroma Veil, Gluttony
Lechonk Evolutions
Evolution – Lechonk evolves to Oinkologne (level 18)
| | | |
| --- | --- | --- |
| Lechonk | Level 18 | Oinkologne |
Lechonk Pokédex Entries / Games
Pokémon Scarlet and Violet  2023
Lechonk Card List – (scroll to bottom for gallery view)
Scarlet and Violet Promo Cards


Stage – Basic
HP –  tbc
Speciality – None
Card Number – 155/198

Gallery