Quaquaval Pokédex Information
Quaquaval is a Water / Fighting type Pokémon that first appeared in the games Pokémon Scarlet and Violet which released in November 2022. It evolves from Quaxwell and is the final evolution of Quaxly.
Quaquaval is a two-legged Water / Fighting character that is based on a duck but also has a resemblance to a dancer. It is dark blue with patches of light blue feathers. The feathers on its head are arrange in a symmetrical fashion with light blue in the middle, dark blue either side and red at the outside edge. Its feet are orange and have three toes on each. A single kick from a Quaquaval can send a truck rolling. This Pokémon uses its powerful legs to perform striking dances from far-off lands.
Contents
Quaquaval Pokédex Facts
Evolutions
Quaquaval Pokédex Entries
TCG Cards
Quaquaval Pokédex Facts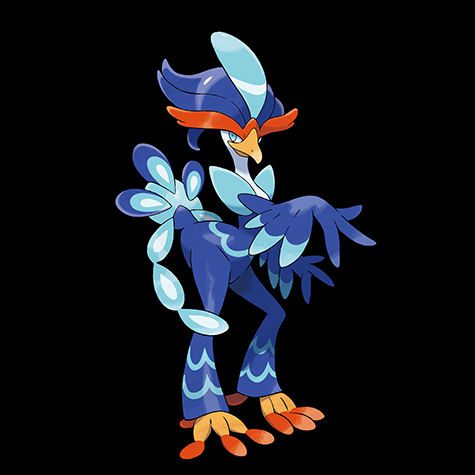 English Name – Quaquaval
Japanese Name – Wanibaru
First Appearance – 2022 (Pokémon Scarlet and Violet)
Generation – IX
Pokédex Number – 0914
Based on – Duck / Dancer
Category – Dancer
Height – 1.8 m
Weight – 61.9 kg
Gender – Male, Female
Primary Type – Water
Secondary Type – Fighting
Weakness – Electric, Fairy, Flying, Grass, Psychic
Special Ability – Torrent
Quaquaval Evolutions
Evolution – Quaxly evolves to Quaxwell (level 16); evolves to Quaquaval (level 36)
| | | |
| --- | --- | --- |
| Quaxly | Level 16 | Quaxwell |
| Level 36 | Quaquaval | |
Quaquaval Pokédex Entries / Games
Pokémon Scarlet and Violet  2022
Quaquaval Card List – (scroll to bottom for gallery view)
Scarlet and Violet Promo Cards


Stage – 2
HP –  170
Speciality – None
Card Number – SVP005


Stage – 2
HP –  320
Speciality – ex
Card Number – SVP035
Scarlet and Violet Base Set 2023

Stage – 2
HP –  170
Speciality – None
Card Number – 054/198
SV Paldea Evolved 2023


Stage – 2
HP –  320
Speciality – ex
Card Number – 052/193
Stage – 2
HP –  320
Speciality – ex
Card Number – 235/193

Stage – 2
HP –  320
Speciality – ex
Card Number – 260/193
Stage – 2
HP –  320
Speciality – ex
Card Number – 273/193
Gallery