Quaxwell Pokédex Information
Quaxwell first appeared in the games Pokémon Scarlet and Violet which released in November 2002. 
Quaxwell is a two-legged duck with a white body and head. Its arms and legs are also white. It has a mass of blue feathers at the end of each arm and on its chest. Its tail is also blue.  On its head is a large mass of blue feathers that are swept back to resemble a turban. Its stance resembles that of a ballet dancer. These Pokémon constantly run through shallow waters to train their legs, then compete with each other to see which of them kicks most gracefully.
Contents
Quaxwell Pokédex Facts
Evolutions
Quaxwell Pokédex Entries
TCG Cards
Quaxwell Pokédex Facts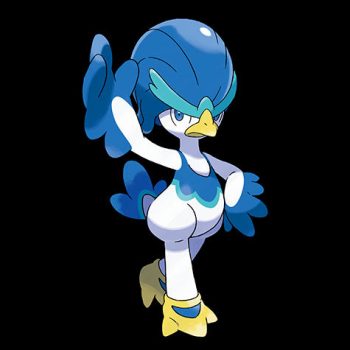 English Name – Quaxwell
Japanese Name – Werukamo
First Appearance – 2022 (Pokémon Scarlet and Violet)
Generation – IX
Pokédex Number – 0913
Based on – Duck / Dancer
Category – Practicing
Height – 1.2 m
Weight – 21.5 kg
Gender – Male, Female
Type – Water
Weakness – Electric, Grass
Special Ability – Torrent
Quaxwell Evolutions
Evolution – Quaxly evolves to Quaxwell (level 16); evolves to Quaquaval (level 36)
| | | |
| --- | --- | --- |
| Quaxly | Level 16 | Quaxwell |
| Level 36 | Quaquaval | |
Quaxwell Pokédex Entries / Games
Pokémon Scarlet and Violet  2023
Quaxwell Card List – (scroll to bottom for gallery view)
Cards not yet revealed