Quaxly Pokédex Information
Quaxly first appeared in the games Pokémon Scarlet and Violet which released in November 2002. 
Quaxly is a two-legged duck with a white body, wings and head. Its legs are blue and it has two big, blue eyes. On its head is a large mass of blue feathers. This Pokémon migrated to Paldea from distant lands long ago. The gel secreted by its feathers repels water and grime.
Contents
Quaxly Pokédex Facts
Evolutions
Quaxly Pokédex Entries
TCG Cards
Quaxly Pokédex Facts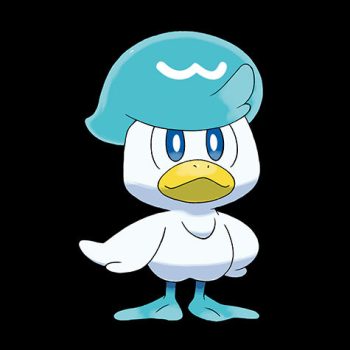 English Name – Quaxly
Japanese Name – Kuwassu
First Appearance – 2022 (Pokémon Scarlet and Violet)
Generation – IX
Pokédex Number – 0912
Based on – Duck
Category – Duckling
Height – 0.5 m
Weight – 6.1 kg
Gender – Male, Female
Type – Water
Weakness – Electric, Grass
Special Ability – Torrent
Quaxly Evolutions
Evolution – Quaxly evolves to Quaxwell (level 16); evolves to Quaquaval (level 36)
| | | |
| --- | --- | --- |
| Quaxly | Level 16 | Quaxwell |
| Level 36 | Quaquaval | |
Quaxly Pokédex Entries / Games
Pokémon Scarlet and Violet  2023
Quaxly Card List – (scroll to bottom for gallery view)
Scarlet and Violet Base Set 2023

Stage – Basic
HP –  70
Speciality – None
Card Number – 052/198
Gallery