Phione Pokédex Information
Phione first appeared in the game Pokémon Diamond and Pearl which released in Japan on September 28th 2006. 
This Pokémon is a small blue creature with a tiny body, large head and long arms. It has a large blue appendage on its head which protrudes from a floatation sac. When the water warms, they inflate the flotation sac on their heads and drift languidly on the sea in packs.
Contents
Phione Pokédex Facts
Evolutions
Phione Pokédex Entries
TCG Cards
Phione Pokédex Facts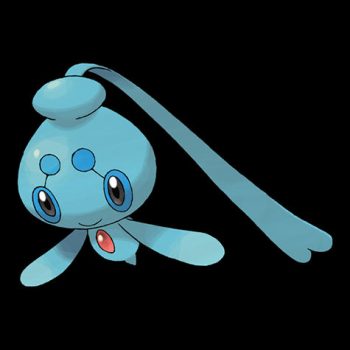 English Name – Phione
Japanese Name – Fione
First Appearance – 2010 (Pokémon Black and White)
Based on – Sea Angel
Generation – IV
Pokédex Number – 489
Category – Sea Drifter
Height – 0.4 m
Weight – 3.1 kg
Gender – Unknown
Type –  Water
Weakness – Electric, Grass
Special Ability – Hydration
Phione Evolutions
Evolution – Phione does not evolve
Phione Pokédex Entries / Games
Diamond and Pearl  2006
Platinum  2008
HeartGold and SoulSilver  2009
Pokémon Black and White  2011
Black 2 and White 2  2012
Pokémon X and Y  2014   
Omega Ruby, Alpha Sapphire  2015  
Brilliant Diamond, Shining Pearl  2021
Legends Arceus  2022
Phione Card List – (scroll to bottom for gallery view)
DP Majestic Dawn 2008


Stage – Basic
HP –  60
Level – 23
Card Number – 12/100

Stage – Basic
HP –  70
Level – 20
Card Number – 27/100
BW Legendary Treasures 2013

Stage – Basic
HP –  70
Speciality – None
Card Number – 36/113
Sun and Moon Promo Cards 2017 – 2019

Stage – Basic
HP –  70
Speciality – None
Card Number – SM220
SM Dragon Majesty 2018

Stage – Basic
HP –  70
Speciality – None
Card Number – 30/70
SM Cosmic Eclipse 2019


Stage – Basic
HP –  70
Speciality – None
Card Number – 57/236
SWSH Silver Tempest 2022

Stage – Basic
HP –  70
Speciality – None
Card Number – 045/195
Gallery