What are Pokémon V Collection Boxes?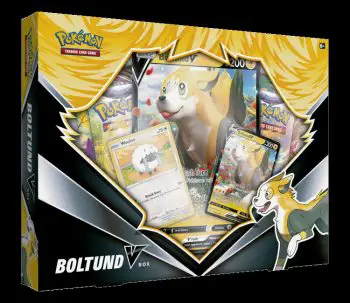 The Sword and Shield expansion series, launched in Spring 2020, introduced V power and VMAX power Pokémon. 
To supplement the series, Pokémon have periodically released V Collection boxes featuring specific characters. The boxes released so far are:
27th February 2020 – Toxtricity V
1st May 2020 – Polteageist V
5th June 2020 – Copperajah V
25th September 2020 – Galarian SirFetch'd V
20th November 2020 – Orbeetle V
8th January 2021 – Alakazam V
19th February 2021 – Pikachu V
19th March 2021 – Single Strike Urshifu V, Rapid Strike Urshifu V
7th May 2021 – Galarian Rapidash V
6th August 2021 – Ice Rider Calyrex V, Shadow Rider Calyrex V
24th September 2021 – Dragonite V
8th October 2021 – Lance's Charizard V, Dark Sylveon V
12th November 2021 – Hoopa V
25th March 2022 – Pikachu V
22nd April 2022 – Boltund V
What's in the Box?
Inside each box there is a Black Star Promo card for the featured character together with a jumbo sized version. There is also a code card for an online version of the box and four booster packs.
The booster packs vary with each character box as follows:
Toxtricity V – 1 x XY Evolutions, 1 x Cosmic Eclipse, 2 x Sword and Shield base set
Polteageist V – 1 x XY Steam Siege, 1 x Sword and Shield base set, 2 x Rebel Clash
Copperajah V – 1 x Guardians Rising, 1 x Sword and Shield base set, 2 x Rebel Clash
Galarian SirFetch'd V – 1 x XY Evolutions, 1 x Sword and Shield base set, 2 x Darkness Ablaze
Orbeetle V – 1 x Burning Shadows, 1 x Darkness Ablaze, 2 x Vivid Voltage
Alakazam V – 1 x Sun and Moon Base, 1 x Rebel Clash, 2 x Vivid Voltage
Pikachu V – 4 x Shining Fates
Single Strike Urshifu V – 2 x Battle Styles, 1 x Crimson Invasion, 1 x Darkness Ablaze
Rapid Strike Urshifu V – 2 x Battle Styles, 1 x Crimson Invasion, 1 x Darkness Ablaze
Rapidash V – 2 x Battle Styles , 1 x Crimson Invasion, 1 x Darkness Ablaze
Ice Rider and Shadow Rider Calyrex V Boxes – 2 x Chilling Reign, 1 x Darkness Ablaze, 1 x Rebel Clash
Dragonite V –  1 x Rebel Clash, 1 x Vivid Voltage, 1 x Chilling Reign and 1 x Evolving Skies
Lance's Charizard V and Dark Sylveon V – 4 x Celebrations, 1 x Darkness Ablaze, 1 x Battle Styles
Hoopa V – 2 x Fusion Strike, 1 x Evolving Skies and 1 x Vivid Voltage