What is the Pokémon Van Gogh Collaboration?
On 12th September 2023, Pokémon announced an upcoming collaboration with the Van Gogh Museum in Amsterdam to celebrate the Museum's 50th anniversary.
A 39-second promotional video was released on the Pokémon YouTube channel that showed Pikachu and Eevee running through fields of sunflowers. They stop and look up at the sky which changes to the sky of a Van Gogh painting. As they look back down the sunflowers have changed into a mass of Sunflora. The clip ends with a framed still of Van Gogh's Sunflowers in a Vase painting with Sunflora in the centre.
There was much speculation among fans of the TCG regarding the possible release of Promo Cards featuring Pokémon in Van Gogh's art, particularly as there had been a similar collaboration in the past.
Five years ago, in 2018, Pokémon collaborated with the Tokyo Metropolitan Art Museum which was hosting Edvard Munch's famous painting 'The Scream'. Five Pokémon cards were produced featurng Pikachu, Eevee, Psycuck, Mimikyu and Rowlet in place of the Munch's foreground character. These were only available to people that visited the Museum.
Two weeks after the first announcement of the collaboration, it was announced that the exhibition would launch in the Van Gogh Museum, Amsterdam on September 28th 2023 and would run through January 7th 2024. A single Promo Card entitled 'Pikachu with Grey Felt Hat' would be given to those that attended the museum. The museum shop would also stock a range of merchandise featuring Pokémon and Van Gogh art.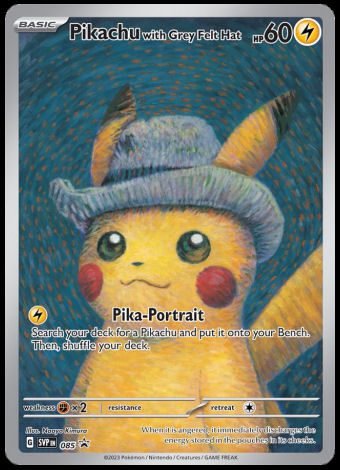 It was later confirmed that the merchandise and the Promo card would also be available from Pokémon Centers.
Why was the Pokémon Van Gogh Collaboration a Disaster?
When the doors opened on the first day of the exhibition, the Van Gogh Museum shop was overrun with purchasers eager to get their hands on the 'Pikachu with Grey Felt Hat' promo card. While some of these were fans of the Pokémon TCG, many were scalpers eager to get as many of the cards as possible.
Products went live on Pokémon Center websites on 29th September, with a Promo card being given free with every £30 / $30 of products purchased. Within 3 hours all products had sold out. It was later revealed that many products had been oversold on the website and customers were receiving emails that their orders, or part of their orders were cancelled and refunded without further explanation.
At the same time, listings began appearing on Ebay and other TCG selling sites for the Promo card and other merchandise at vastly inflated prices. A search on Ebay UK for 'Pokémon Van Gogh' revealed 2900+ results and a search for 'Pikachu with Grey Felt Hat' shows 827 results. The image below shows that the seller of the top search result has already sold 8 of the Promo cards for nearly £90 each.
Fans who wanted merchandise and the Promo card for their collections were understandably upset by the situation.
Have Pokémon taken any steps to appease fans?
A statement was released by Pokémon apologising to fans, stating that products had sold out 'due to overwhelming demand' and that they were hoping to provide more 'Pikachu with Grey Felt Hat' cards in the future.
The Van Gogh Museum in Amsterdam also released a statement announcing that the 'Pikachu with Grey Felt Hat' Promo card would no longer be available at the Museum. The statement cited '..a small group of individuals (having) created an undesirable situation' as the reason for this.
On 12th October it was announced that the 'Pikachu with Grey Felt Hat' Promo card would be returning to Pokémon Centers and would be given away free with purchases of £30 or more.
Although disappointing that no other products would be restocked, this news was warmly welcomed by fans. It appeared to indicate that all those who wanted a copy of the card would be able to get one, and if this were to happen the online price would tumble leaving scalpers out of pocket.
On Monday 17th October, Pokémon Centers began offering Pikachu Promo card with £30 of products purchased. Unbelievably, within three hours of launch there were no cards left.
Although Pokémon have now promised further cards will be available at a later date, it seems likely that the same thing will happen again leaving fans disappointed and disaffected with the company.
Supply, Demand and the problem of Scalpers
Its hard to believe that Pokémon were unaware of the enormous demand there would be for products and particularly the Promo card both at the Museum and online.
Additionally, the situation with scalpers and the use of online bots to buy up products and then resale at inflated prices, is well known and frustrating for real fans who are unable to get the products they love.
When supply is low and demand high, prices rise creating opportunity for scalpers. When supply meets or exceeds demand prices fall giving no opportunity for profiteering scalpers.
Given that the Pokémon Van Gogh Collaboration is set to run to January 2024, it should have been obvious that a large supply of products and Promo Cards would be needed to keep the museum shop well-stocked during that time. When it was announced that the Promo card would also be available with purchases from Pokémon Centers, surely even more cards should have been printed.
Pokémon do have experience of managing high-demand promotional products. When the Special Delivery Bidoof card was released in 2021, fans had to register their interest on the Pokémon Center website and those that were successful were sent a unique code to enable them to get the card.
Another way of managing high demand products is to limit the number of items each person can buy. This would be easy to implement for online Pokémon Centers. Given that visitors cannot enter the Van Gogh Museum shop without paying the entrance fee to the museum, It is likely this would have prevented scalpers from getting multiple products / promo cards.
Do Pokémon Care?
In the light of the Pokémon Van Gogh Collaboration Disaster, one has to ask the question why weren't measures taken to stop scalpers from ruining the collaboration for regular fans. As Pokémon fans we like to believe that Pokémon have fans at the heart of every decision made.
However, having stock sitting in warehouses is not good business practice. Rather it is better to produce less and ensure that all stock is sold with the mark up desired by the company rather than being left with unwanted stock that has to be sold at a loss or destroyed. To what extent does it matter to a company who buys the stock so long as targets are met?
Is Pokémon guilty of ensuring that profit at any cost takes precedence over the experience of their loyal fans?
Let us know your thoughts in the comments below.