Probopass Pokédex Information
Probopass is a Rock / Steel type Pokémon that first appeared in the game Pokémon Diamond and Pearl which released in Japan on September 28th 2006. It evolves from Nosepass.
This Pokémon is a large, heavy creature made of rock and steel that is based on the Moai statues of Easter Island. It has a blue body with small mini noses either side and on its back. Above its eyes it has a red magnetic hat, and below its eyes it has a large red magnetic nose. Small particles of iron sand are attracted to its magnetic nose making it appear as if it has a black moustache. Although it can control its units known as mini-noses, they sometimes get lost and don't come back.
Contents
Probopass Pokédex Facts
Evolutions
Probopass Pokédex Entries
TCG Cards
Probopass Pokédex Facts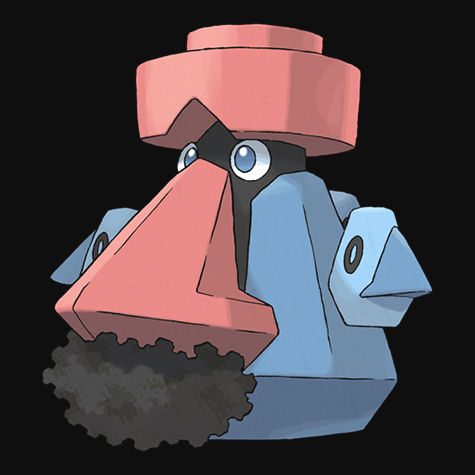 English Name – Probopass
Japanese Name – Dainōzu
First Appearance – 2010 (Pokémon Black and White)
Generation – IV
Based on – Moai Statues of Easter Island
Pokédex Number – 476
Category – Compass
Height – 1.4 m
Weight – 340 kg
Gender – Male, Female
Primary Type –  Rock
Secondary Type – Steel
Weakness – Fighting, Ground, Water
Special Abilities – Sturdy, Magnet Pull
Probopass Evolutions
Evolution – Nosepass evolves to Probopass (with Magnetic Field, or Thunder Stone)
| | | |
| --- | --- | --- |
| Nosepass | Magnetic Field or Thunder Stone | Probopass |
Probopass Pokédex Entries / Games
Diamond and Pearl  2006
Platinum  2008
HeartGold and SoulSilver  2009
Pokémon Black and White  2011
Black 2 and White 2  2012
Pokémon X and Y  2014   
Omega Ruby, Alpha Sapphire  2015  
Sun and Moon  2016
Ultra Sun and Ultra Moon  2017
Brilliant Diamond, Shining Pearl  2021
Legends Arceus  2022
Probopass Card List – (scroll to bottom for gallery view)
Diamond and Pearl Promo Cards 2007 – 2009


Stage – 1
HP –  90
Level – 53
Card Number – DP43
DP Legends Awakened 2008

Stage – 1
HP –  90
Level – 46
Card Number – 13/146
POP Series 8  2008


Stage – 1
HP –  90
Level – 44
Card Number – 4/17
Platinum Base Set 2009


Stage – 1
HP –  90
Level – 49
Card Number – 60/127
Platinum Arceus 2009


Stage – 1
HP –  100
Level – 55
Card Number – 7/99
BW Dragons Exalted 2012

Stage – 1
HP –  110
Speciality – None
Card Number – 82/124
XY Primal Clash 2015


Stage – 1
HP –  110
Speciality – None
Card Number – 95/160
XY Steam Siege 2016


Stage – 1
HP –  120
Speciality – None
Card Number – 55/114
SM Guardians Rising 2017


Stage – 1
HP –  150
Speciality – None
Card Number – 86/145
SM Cosmic Eclipse 2019

Stage – 1
HP –  130
Speciality – None
Card Number – 141/236
SWSH Rebel Clash 2020


Stage – 1
HP –  140
Speciality – None
Card Number – 131/192
SWSH Brilliant Stars 2022

Stage – 1
HP –  140
Speciality – None
Card Number – 099/172
SV Obsidian Flames 2023

Stage – 1
HP – 150
Speciality – None
Card Number – 146/197
Gallery