Gallade Pokédex Information
Gallade is a male only, Psychic / Fighting type Pokémon that first appeared in the game Pokémon Diamond and Pearl which released in Japan on September 28th 2006. It evolves from male Kirlia and is a final evolution of Ralts.
In regular form this Pokémon is a two-legged character with a white face, lower body and legs. Its upper torso, arms and head are green. It has extendable blades on its elbows and sharp red thorns on its back and front. True to its honorable-warrior image, it uses the blades on its elbows only in defense of something or someone.
It evolves to Mega form with Galladite. In this form all of its body is white and the blades on its arms are now coloured red. The protrusions on its back have become two wing-like appendages. In mega forme it can sense what its foe is thinking, its attacks burst out first, fast, and fierce.
Contents
Gallade Pokédex Facts
Evolutions
Gallade Pokédex Entries
TCG Cards
Gallade Pokédex Facts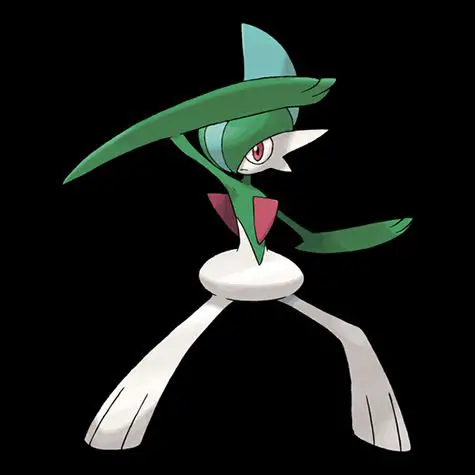 English Name – Gallade
Japanese Name – Erureido
First Appearance – 2010 (Pokémon Black and White)
Generation – IV
Pokédex Number – 0475
Based on – Knight / Warrior
Regular Forme
Category – Blade
Height – 1.6 m
Weight – 52 kg
Gender – Male
Primary Type –  Psychic
Secondary Type – Fighting
Weakness – Fairy, Flying, Ghost
Special Ability – Steadfast
Mega Forme
Category – Blade
Height – 1.6 m
Weight – 56.4 kg
Gender – Male
Primary Type –  Psychic
Secondary Type – Fighting
Weakness – Fairy, Flying, Ghost
Special Ability – Inner Focus
Gallade Evolutions
Evolution – Ralts evolves to Kirlia (level 20); male Kirlia evolves to Gallade (with Dawn Stone)
| | | |
| --- | --- | --- |
| Ralts | Level 20 | Kirlia |
| Male with Dawn Stone | Gallade | |
Gallade Pokédex Entries / Games
Diamond and Pearl  2006
Platinum  2008
HeartGold and SoulSilver  2009
Pokémon Black and White  2011
Black 2 and White 2  2012
Pokémon X and Y  2014   
Omega Ruby, Alpha Sapphire  2015  
Sword and Shield  2019
Brilliant Diamond, Shining Pearl  2021
Legends Arceus  2022
Gallade Card List – (scroll to bottom for gallery view)
DP Secret Wonders 2007

Stage – 2
HP –  130
Level – 55
Card Number – 6/132
POP Series 7  2007

Stage – 2
HP –  130
Level – 55
Card Number – 2/17
Platinum Rising Rivals 2009

Gallade 4
Stage – Basic
HP –  80
Level – 59
Card Number – 20/111
Gallade 4
Stage – Level Up
HP –  100
Level – Lv.X
Card Number – 106/111
BW Plasma Storm 2013

Stage – 2
HP –  140
Speciality – None
Card Number – 61/135
BW Legendary Treasures 2013

Stage – 2
HP –  140
Speciality – None
Card Number – 81/113
XY Promo Cards 2014 – 2016


Stage – Basic
HP –  170
Speciality – EX
Card Number – XY45
XY Roaring Skies 2015

Stage – Basic
HP –  170
Speciality – EX
Card Number – 34/108
Stage – Mega
HP –  220
Speciality – EX
Card Number – 35/108
Gallade Spirit Link
Trainer 
Type – Item
Card Number – 83/108
Stage – Basic
HP –  170
Speciality – EX
Card Number – 99/108

Stage – Mega
HP –  220
Speciality – EX
Card Number – 100/108
XY BREAKThrough 2015

Stage – 2
HP –  150
Speciality – None
Card Number – 84/162
SM Cosmic Eclipse 2019

Stage – 2
HP –  160
Speciality – None
Card Number – 82/236
Stage – 2
HP –  160
Speciality – None
Card Number – 244/236
Sword and Shield Promo Cards 2020 – 2023

Stage – Basic
HP –  220
Speciality – V
Card Number – SWSH258
SWSH Chilling Reign 2021

Stage – 2
HP –  170
Speciality – None
Card Number – 081/198
SWSH Astral Radiance 2022

Stage – 2
HP –  160
Speciality – None
Card Number – 062/189
SWSH Lost Origin 2022

Stage – Basic
HP –  220
Speciality – V
Card Number – 180/196
Stage – Basic
HP –  220
Speciality – V
Card Number – TG19/TG30
Gallery