Nosepass Pokédex Information
Nosepass is a Rock type Pokémon that first appeared in the game Pokémon Ruby and Sapphire which released in Japan on November 21st 2002. It evolves to Probopass.
This Pokémon is a two-legged character that is based on the Moai statues of Easter Island. It has a blue body with a small red nose. It moves less than an inch a year, but when it's in a jam, it will spin and drill down into the ground in a split second.
Contents
Nosepass Pokédex Facts
Evolutions
Nosepass Pokédex Entries
TCG Cards
Nosepass Pokédex Facts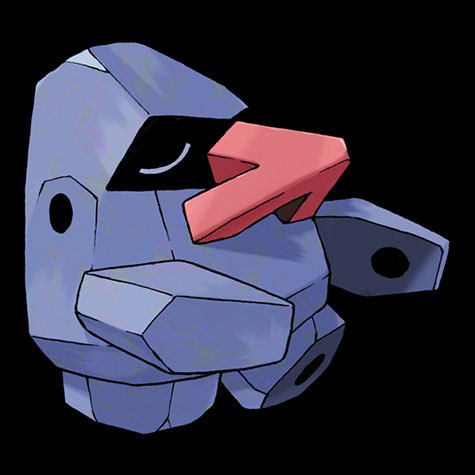 English Name – Nosepass
Japanese Name – Nozupasu
First Appearance – 2003 (Pokémon Ruby and Sapphire)
Based on – Moai Statues of Easter Island
Generation – III
Pokédex Number – 299
Category – Compass
Height – 1.0 m
Weight – 97 kg
Gender – Male, Female
Type –  Rock
Weakness – Fighting, Grass, Ground, Steel, Water
Special Abilities – Sturdy, Magnet Pull
Nosepass Evolutions
Evolution – Nosepass evolves to Probopass (with Magnetic Field, or Thunder Stone)
| | | |
| --- | --- | --- |
| Nosepass | Magnetic Field or Thunder Stone | Probopass |
Nosepass Pokédex Entries / Games
Ruby and Sapphire  2002
Pokémon Emerald  2004
FireRed and LeafGreen  2005
Diamond and Pearl  2006
Platinum  2008
HeartGold and SoulSilver  2009
Pokémon Black and White  2011
Black 2 and White 2  2012
Pokémon X and Y  2014   
Omega Ruby, Alpha Sapphire  2015  
Sun and Moon  2016
Ultra Sun and Ultra Moon  2017
Brilliant Diamond, Shining Pearl  2021
Legends Arceus  2022
Nosepass Card List – (scroll to bottom for gallery view)
EX Ruby and Sapphire 2003

Stage – Basic
HP –  60
Speciality – None
Card Number – 18/109
EX Deoxys 2005


Stage – Basic
HP –  60
Speciality – None
Card Number – 42/107
EX Emerald 2005


Stage – Basic
HP –  70
Speciality – None
Card Number – 17/106
EX Holon Phantoms 2006


Stage – Basic
HP –  60
Speciality – None
Card Number – 25/110
DP Legends Awakened 2008


Stage – Basic
HP –  70
Level – 15
Card Number – 109/146
Platinum Base Set 2009


Stage – Basic
HP –  60
Level – 10
Card Number – 84/127
Platinum Arceus 2009


Stage – Basic
HP –  70
Level – 13
Card Number – 69/99
BW Dragons Exalted 2012

Stage – Basic
HP –  80
Speciality – None
Card Number -62/124
XY Primal Clash 2015


Stage – Basic
HP –  80
Speciality – None
Card Number – 78/160
XY Steam Siege 2016


Stage – Basic
HP –  70
Speciality – None
Card Number – 54/114
SM Guardians Rising 2017

Stage – Basic
HP –  80
Speciality – None
Card Number – 69/145
SM Cosmic Eclipse 2019


Stage – Basic
HP –  80
Speciality – None
Card Number – 106/236
SWSH Rebel Clash 2020


Stage – Basic
HP –  80
Speciality – None
Card Number – 096/192
SWSH Brilliant Stars 2022


Stage – Basic
HP –  90
Speciality – None
Card Number – 073/172
SV Obsidian Flames 2023

Stage – Basic
HP – 90
Speciality – None
Card Number – 107/197
Gallery