Skitty Pokédex Information
Skitty first appeared in the game Pokémon Ruby and Sapphire which released in Japan on November 21st 2002. 
Skitty is a four-legged character that is based on a young cat. It is coloured pink and cream apart from the insides of its ears which are purple. The end of its thin tail is shaped like a partially deflated pink balloon from which three cream balls radiate. Skitty has the habit of becoming fascinated by moving objects and chasing them around. This Pokémon is known to chase after its own tail and become dizzy.
Contents
Skitty Pokédex Facts
Evolutions
Skitty Pokédex Entries
TCG Cards
Skitty Pokédex Facts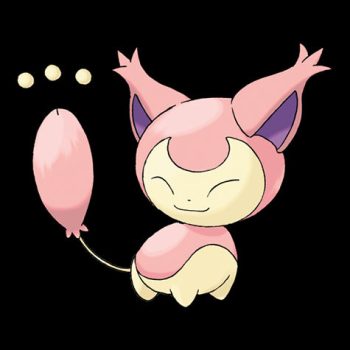 English Name – Skitty
Japanese Name – Eneko
First Appearance – 2002 (Pokémon Ruby and Sapphire)
Based on – Cat
Generation – III
Pokédex Number – 300
Category – Kitten
Height – 0.6 m
Weight – 11 kg
Gender – Male or Female
Type – Normal
Weaknesses – Fighting
Special Abilities – Cute Charm, Normalise
Skitty Evolution
Evolution – Skitty evolves to Delcatty (with Moon Stone)
| | | |
| --- | --- | --- |
| Skitty | Moon Stone | Delcatty |
Skitty Pokédex Entries / Games
Ruby and Sapphire  2002
FireRed, LeafGreen  2004
Pokémon Emerald  2004
Diamond and Pearl  2006
Platinum  2008
HeartGold and SoulSilver  2009
Pokémon Black and White  2011
Black 2 and White 2  2012
Pokémon X and Y  2014   
Omega Ruby, Alpha Sapphire  2015 
Brilliant Diamond, Shining Pearl  2021
Skitty Card List – (scroll to bottom for gallery view)
EX Ruby and Sapphire 2003

Stage – Basic
HP – 40
Speciality – None
Card Number – 44/109
Stage – Basic
HP – 40
Speciality – None
Card Number – 70/109
Stage – Basic
HP – 50
Speciality – None
Card Number – 71/109
EX Sandstorm 2003

Stage – Basic
HP – 50
Speciality – None
Card Number – 79/100
EX Legend Maker 2006

Stage – Basic
HP – 50
Speciality – None
Card Number – 64/92
EX Crystal Guardians 2006

Stage – Basic
HP – 90
Speciality – ex
Card Number – 41/100
EX Power Keepers 2007

Stage – Basic
HP – 50
Speciality – None
Card Number – 62/108
DP Legends Awakened 2008


Stage – Basic
HP – 50
Level – 14
Card Number – 119/146
Platinum Base Set 2009


Stage – Basic
HP – 60
Level – 20
Card Number – 93/127
BW Boundaries Crossed 2012

Stage – Basic
HP – 60
Speciality – None
Card Number – 113/149
BW Plasma Storm 2013

Stage – Basic
HP – 50
Speciality – None
Card Number – 109/135
XY Kalos Starter Set 2013

Stage – Basic
HP – 60
Speciality – None
Card Number – 28/39
XY Base Set 2014


Stage – Basic
HP – 50
Speciality – None
Card Number – 104/146
XY Primal Clash 2015

Stage – Basic
HP – 50
Speciality – None
Card Number – 113/160
McDonald's Collection 2015

Stage – Basic
HP – 50
Speciality – None
Card Number – 12/12
SM Celestial Storm 2018

Stage – Basic
HP – 60
Speciality – None
Card Number – 120/168
SWSH Darkness Ablaze 2020

Stage – Basic
HP – 60
Speciality – None
Card Number – 141/189
SWSH Fusion Strike 2021


Stage – Basic
HP – 60
Speciality – None
Card Number – 210/264
Gallery