Skrelp Pokédex Information
Skrelp first appeared in the games Pokémon X and Y which released in October 2013. 
This Pokémon is a an aquatic character that is based on a sea dragon but resembles seaweed. It is brown with a pink underbelly and white fins. A thin, brown projection with an oval shaped disc at the end radiates from the back of its head. Skrelp evades its enemies by hiding amid drifting seaweed. It eats rotten seaweed to create its poison.
Contents
Skrelp Pokédex Facts
Evolutions
Skrelp Pokédex Entries
TCG Cards
Skrelp Pokédex Facts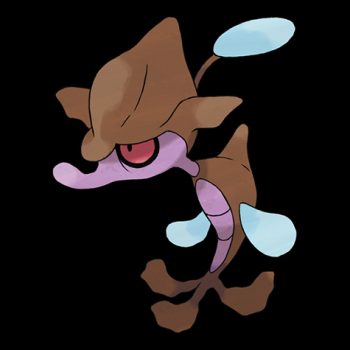 English Name – Skrelp
Japanese Name – Kuzumō
First Appearance – 2014 (Pokémon X and Y)
Generation – VI
Pokédex Number – 690
Based on – Sea Dragon / Seaweed
Category – Mock Kelp
Height – 0.5 m
Weight – 7.3 kg
Gender – Male, Female 
Primary Type – Poison
Secondary Type – Water
Weakness – Electric, Ground, Psychic
Special Ability – Poison Point, Poison Touch
Skrelp Evolutions
Evolution – Skrelp evolves to Dragalge (level 48)
Skrelp Pokédex Entries / Games
Pokémon X and Y 20143
Omega Ruby, Alpha Sapphire 2015 
Ultra Sun and Ultra Moon 2017
Sword and Shield  2019  
Scarlet and Violet 2022
Skrelp Card List – (scroll to bottom for gallery view)
XY Flashfire 2014

Stage – Basic
HP –  50
Speciality – None
Card Number – 44/106
XY BREAKPoint 2016


Stage – Basic
HP –  50
Speciality – None
Card Number – 63/122
SM Forbidden Light 2018


Stage – Basic
HP – 60
Speciality – None
Card Number – 52/131
SM Cosmic Eclipse 2019


Stage – Basic
HP – 60
Speciality – None
Card Number – 91/236
SWSH Crown Zenith 2023

Stage – Basic
HP – 60
Speciality – None
Card Number – 081/159
Gallery