Swampert Pokédex Information
Swampert first appeared in the game Pokémon Ruby and Sapphire which released in Japan on November 21st 2002. 
Swampert is a two-legged character that is based on a salamander or a mudskipper. In regular form it is predominantly blue with a white belly and orange markings on its elbows and knees. It has orange gills on either side of its face, two large grey fins that resemble ears are attached to its head and another large fan-shaped fin that resembles a tail extends from its back.
In Mega Form it is larger and the orange markings on its limbs are darker and there are more of them. The gills on its head extend from above its eyes to the back of its head. Swampert is very strong. It has enough power to easily drag a boulder weighing more than a ton. This Pokémon also has powerful vision that lets it see even in murky water.
Contents
Swampert Pokédex Facts
Evolutions
Swampert Pokédex Entries
TCG Cards
Swampert Pokédex Facts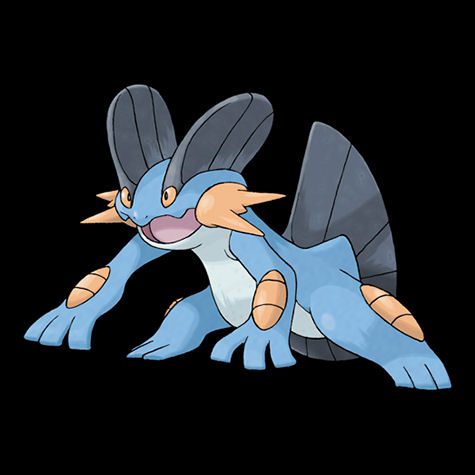 English Name – Swampert
Japanese Name – Ragurāji
First Appearance – 2003 (Pokémon Ruby and Sapphire)
Based on – Salamander / Mudskipper
Generation – III
Pokédex Number – 0260
Regular Form
Category – Mud Fish
Height – 1.5 m
Weight – 81.9 kg
Gender – Male, Female
Primary Type –  Water
Secondary Type – Ground
Weakness – Grass
Special Abilities – Torrent
Mega Form
Category – Mud Fish
Height – 1.9 m
Weight – 102 kg
Gender – Unknown
Primary Type –  Water
Secondary Type – Ground
Weakness – Grass
Special Abilities – Swift Swim
Swampert Evolutions
Evolution – Mudkip evolves to Marshtomp (Level 16); evolves to Swampert (Level 36)
| | | |
| --- | --- | --- |
| Mudkip | Level 16 | Marshtomp |
| Level 36 | Swampert | |
Swampert Pokédex Entries / Games
Ruby and Sapphire  2002
Pokémon Emerald  2004
FireRed and LeafGreen  2005
Diamond and Pearl  2006
Platinum  2008
HeartGold and SoulSilver  2009
Pokémon Black and White  2011
Black 2 and White 2  2012
Pokémon X and Y  2014   
Omega Ruby, Alpha Sapphire  2015  
Brilliant Diamond, Shining Pearl  2021
Swampert Card List – (scroll to bottom for gallery view)
EX Ruby and Sapphire 2003


Stage – 2
HP –  110
Speciality – None
Card Number – 13/109

Stage – 2
HP –  100
Speciality – None
Card Number – 23/109
EX Team Magma vs Team Aqua 2004

Stage – 2
HP –  150
Speciality – ex
Card Number – 95/95
POP Series 1 2004


Stage – 2
HP –  100
Speciality – None
Card Number – 5/17
EX Emerald 2005

Stage – 2
HP –  110
Speciality – None
Card Number – 11/106
EX Crystal Guardians 2006


Stage – 2
HP –  120
Speciality – None
Card Number – 27/100

Stage – 2
HP –  150
Speciality – ex
Card Number – 98/100
DP Great Encounters 2008

Stage – 2
HP –  130
Level – 53
Card Number – 9/106
Platinum Supreme Victors 2009

Stage – 2
HP –  130
Level – 60
Card Number – 12/147
XY Promo Cards 2014 – 2016

Stage – Basic
HP –  180
Speciality – EX
Card Number – XY55
Stage – Mega
HP –  220
Speciality – EX
Card Number – XY87
XY Primal Clash 2015

Stage – 2
HP –  150
Speciality – None
Card Number – 35/160

Stage – 2
HP –  140
Speciality – None
Card Number – 36/160
SM Celestial Storm 2018

Stage – 2
HP –  150
Speciality – None
Card Number – 35/168
SWSH Fusion Strike 2022


Stage – 2
HP –  170
Speciality – None
Card Number – 064/264
Gallery