Taillow Pokédex Information
Taillow first appeared in the game Pokémon Ruby and Sapphire which released in Japan on November 21st 2002. 
Taillow is a bird that is based on a Swallow. Its back and wings are dark blue while its breast is red and its belly is white. Its tail is forked and coloured dark blue. Taillow courageously stands its ground against foes, however strong they may be. This gutsy Pokémon will remain defiant even after a loss. On the other hand, it cries loudly if it becomes hungry.
Contents
Taillow Pokédex Facts
Evolutions
Taillow Pokédex Entries
TCG Cards
Taillow Pokédex Facts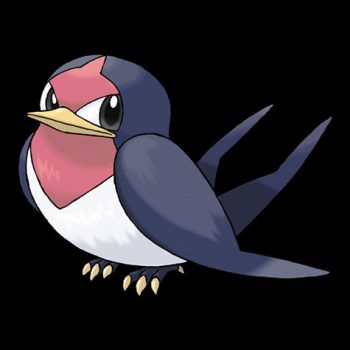 English Name – Taillow
Japanese Name – Subame
First Appearance – 2003 (Pokémon Ruby and Sapphire)
Based on – Swallow
Generation – III
Pokédex Number – 276
Category – Tiny Swallow
Height – 0.3 m
Weight – 2.3 kg
Gender – Male, Female
Primary Type –  Normal
Secondary Type – Flying
Weakness – Electric, Ice, Rock
Special Abilities – Guts
Taillow Evolutions
Evolution – Taillow evolves to Swellow (Level 22)
Taillow Pokédex Entries / Games
Ruby and Sapphire  2002
Pokémon Emerald  2004
FireRed and LeafGreen  2005
Diamond and Pearl  2006
Platinum  2008
HeartGold and SoulSilver  2009
Pokémon Black and White  2011
Black 2 and White 2  2012
Pokémon X and Y  2014   
Omega Ruby, Alpha Sapphire  2015  
Brilliant Diamond, Shining Pearl  2021
Taillow Card List – (scroll to bottom for gallery view)
EX Ruby and Sapphire 2003

Stage – Basic
HP –  40
Speciality – None
Card Number – 72/109
EX Dragon 2003

Stage – Basic
HP –  50
Speciality – None
Card Number – 76/97
EX Deoxys 2005


Stage – Basic
HP –  40
Speciality – None
Card Number – 80/107
EX Emerald 2005


Stage – Basic
HP –  50
Speciality – None
Card Number – 68/106
EX Delta Species 2005

Stage – Basic
HP –  40
Speciality – None
Card Number – 86/113
EX Dragon Frontiers 2006

Stage – Basic
HP –  40
Speciality – None
Card Number – 66/101
DP Legends Awakened 2008

Stage – Basic
HP –  50
Level – 12
Card Number – 124/146
BW Boundaries Crossed 2012

Stage – Basic
HP –  50
Speciality – None
Card Number – 112/149
XY Base Set 2014

Stage – Basic
HP –  50
Speciality – None
Card Number – 102/146
XY Roaring Skies 2015


Stage – Basic
HP –  50
Speciality – None
Card Number – 70/108
SM Guardians Rising 2017

Stage – Basic
HP –  60
Speciality – None
Card Number – 103/145
SWSH Vivid Voltage 2020


Stage – Basic
HP –  60
Speciality – None
Card Number – 133/185
Gallery