Urshifu Pokédex Information
Urshifu is a Pokémon that first appeared in the Pokémon Sword and Shield expansion, Isle of Armor, which released in June 2020. It evolves from Kubfu.
Urshifu is a two-legged Pokémon that may be based on a Bear or on Martial Arts. It stands nearly 2 metres in height and is covered in light grey fur. Around it ankles and knees are bands of black fur, while a band of black and white fur encircles its head.  On the front of its body is another large patch of black fur with a V shaped area of white fur. Its muzzle, fingers and toes are yellow.
Urshifu has two different forms – Single Strike which is a Fighting / Dark type Pokémon and Rapid Strike which is a Fighting / Water type. In Single Strike form the black and white fur markings radiate upwards. This form of Urshifu is a strong believer in the one-hit KO. Its strategy is to leap in close to foes and land a devastating blow with a hardened fist.
In Rapid Strike form its fur radiates downwards, but otherwise its appearance remains the same. It's believed that this Pokémon modelled its fighting style on the flow of a river – sometimes rapid, sometimes calm.
Single Strike and Rapid Strike Urshifu can both transform to Gigantamax form with the Dynamax band in this form both types of Urshifu and much bigger and heavier. Gigantamax Single Strike Urshifu has white fur with red markings and its upper chest is pink. People call it the embodiment of rage. It's said that this Pokémon's terrifying expression and shout will rid the world of malevolence.
Gigantamax Rapid Strike Urshifu has white fur with blue markings and its upper chest has a pink tinge. As it waits for the right moment to unleash its Gigantamax power, this Pokémon maintains a perfect one-legged stance. It won't even twitch.  
Contents
Urshifu Pokédex Facts
Evolutions
Urshifu Pokédex Entries
TCG Cards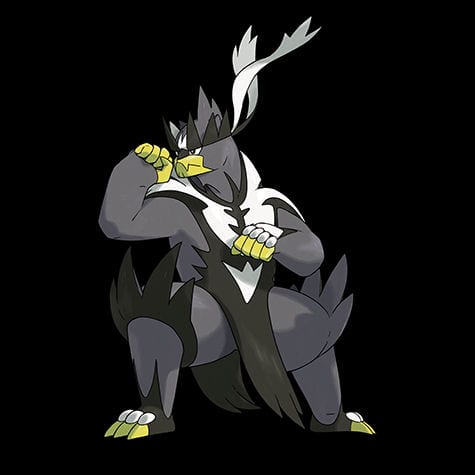 English Name – Urshifu
Japanese Name – Ūraosu
First Appearance – 2020 (Pokémon Sword and Shield expansion)
Generation – VIII
Based on – Bear / Martial Arts
Pokédex Number – 0892
Single Strike Form
Category – Wushu
Height – 1.9 m
Weight – 105.0 kg
Gender – Male and Female
Primary Type – Fighting
Secondary Type – Dark
Weakness – Fairy, Fighting, Flying
Special Ability – Unseen Fist

Rapid Strike Form
Category – Wushu
Height – 1.9 m
Weight – 105.0 kg
Gender – Male and Female
Primary Type – Fighting
Secondary Type – Water
Weakness – Electric, Fairy, Flying, Grass Psychic
Special Ability – Unseen Fist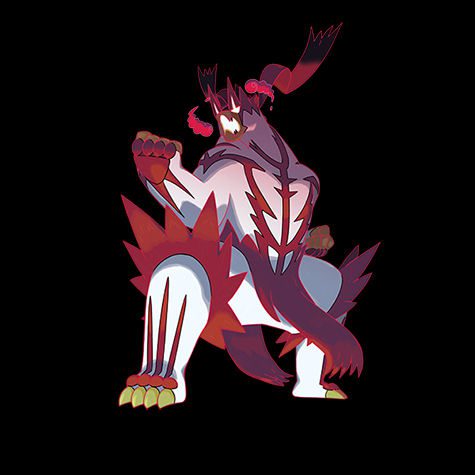 Single Strike Gigantamax Form
Category – Wushu
Height – >29 m
Weight – Unknown
Gender – Male and Female
Primary Type – Fighting
Secondary Type – Dark
Weakness – Fairy, Fighting, Flying
Special Ability – Unseen Fist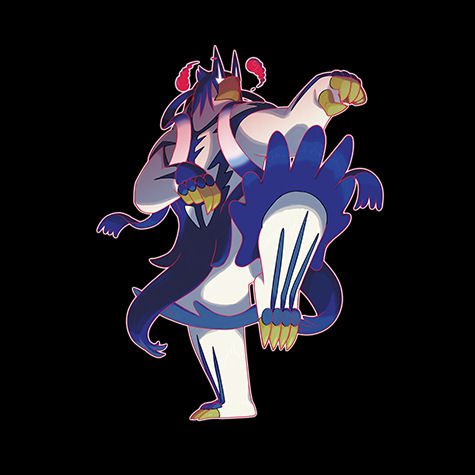 Rapid Strike Gigantamax Form
Category – Wushu
Height – >26 m
Weight – Unknown
Gender – Male and Female
Primary Type – Fighting
Secondary Type – Water
Weakness – Electric, Fairy, Flying, Grass Psychic
Special Ability – Unseen Fist
Urshifu Evolutions
Evolution – Kubfu evolves to Single Strike Urshifu (with Scroll of Darkness); Kubfu evolves to Raipd Strike Urshifu (with Scroll of Waters)
| | | |
| --- | --- | --- |
| Kubfu | Scroll of Darkness | Single Strike Urshifu |
| Kubfu | Scroll of Waters | Rapid Strike Urshifu |
Urshifu Pokédex Entries / Games
Pokémon Sword and Shield Isle of Armor 2020
Urshifu Card List – (scroll to bottom for gallery view)
SWSH Promo Cards 2020 – 2023


Stage – Basic
HP – 220
Speciality – V
Form – Single Strike
Card Number – SWSH106

Stage – Basic
HP – 220
Speciality – V
Form – Rapid Strike
Card Number – SWSH107
Battle Styles 2021

Stage – Basic
HP – 220
Speciality – V
Form – Single Strike
Card Numbers – 085/163

Stage – Basic
HP – 220
Speciality – V
Form – Single Strike
Card Numbers – 150/163
Stage – Basic
HP – 220
Speciality – V
Form – Single Strike
Card Numbers – 151/163
Stage – VMAX
HP – 330
Speciality – VMAX
Form – Single Strike
Card Numbers – 086/163

Stage – VMAX
HP – 330
Speciality – VMAX
Form – Single Strike
Card Numbers – 167/163

Stage – VMAX
HP – 330
Speciality – VMAX
Form – Single Strike
Card Numbers – 168/163
Stage – Basic
HP – 220
Speciality – V
Form – Rapid Strike
Card Numbers – 087/163

Stage – Basic
HP – 220
Speciality – V
Form – Rapid Strike
Card Numbers – 152/163
Stage – Basic
HP – 220
Speciality – V
Form – Rapid Strike
Card Numbers – 153/163

Stage – VMAX
HP – 330
Speciality – VMAX
Form – Rapid Strike
Card Numbers – 088/163
Stage – VMAX
HP – 330
Speciality – VMAX
Form – Rapid Strike
Card Numbers – 169/163
Stage – VMAX
HP – 330
Speciality – VMAX
Form – Rapid Strike
Card Numbers – 170/163
Chilling Reign 2021

Stage – 1
HP – 140
Speciality – None
Form – Rapid Strike
Card Numbers – 044/198
Stage – 1
HP – 140
Speciality – None
Form – Single Strike
Card Numbers – 108/198
SWSH Brilliant Stars 2022

Stage – Basic
HP – 220
Speciality – V
Form – Single Strike
Card Numbers – TG18/TG30

Stage – VMAX
HP – 330
Speciality – VMAX
Form – Single Strike
Card Numbers – TG19/TG30

Stage – Basic
HP – 220
Speciality – V
Form – Rapid Strike
Card Numbers – TG20/TG30
Stage – VMAX
HP – 330
Speciality – VMAX
Form – Rapid Strike
Card Numbers – TG21/TG30
Stage – VMAX
HP – 330
Speciality – VMAX
Form – Single Strike
Card Numbers – TG29/TG30

Stage – VMAX
HP – 330
Speciality – VMAX
Form – Rapid Strike
Card Numbers – TG30/TG30
Gallery