Release Announcement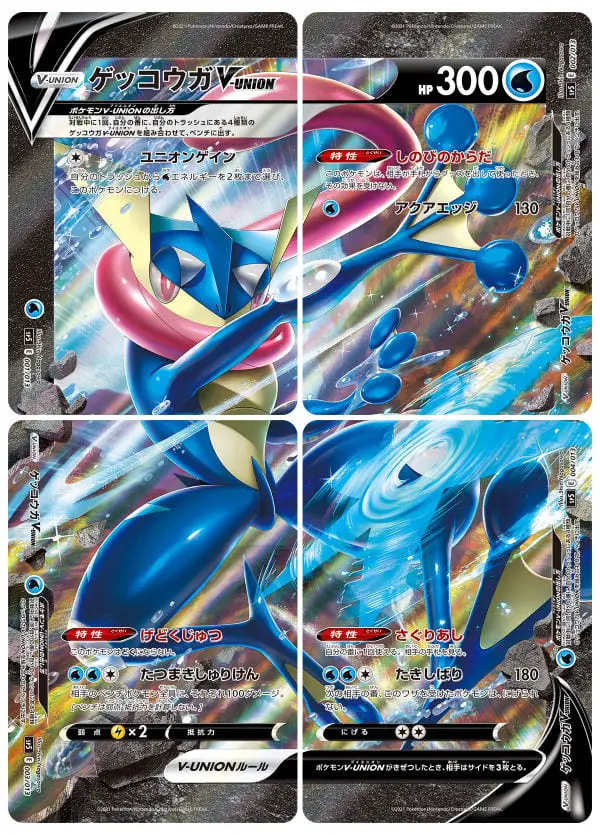 Pokémon have announced the upcoming release of a series of V Union Cards. They will be released in Japan in August 2021 as part of the Japanese Towering Perfection and Sky Stream expansions.
The new cards will only be available as special theme decks which will include Professor Burnet.
At present there has been no information regarding the release of these cards to the rest of the World. It is unlikely that they will form part of the Evolving Skies Expansion due for release at the end of August. More likely is that they will form part of the special 25th Anniversary set scheduled for release later in the year.
What are V Union Cards?
These are special Jumbo-sized cards which are formed by combining 4 regular-sized cards. The cards are full art cards with each of the 4 regular-sized cards containing a quarter of the finished card. 
Three different V Union cards have been announced: Greninja V, Mewtwo V and Zacian V. The illustration above depicts Greninja V.  It is likely that these special cards will be popular with collectors especially if there are only 3 types produced.
Despite the obvious appeal to collectors, these cards have been designed for players of the Trading Card Game. Although they cannot be played directly from a player's hand, they can be used from the discard pile.
V Union cards have a high HP and also have special unique abilities. Initial feelings among players are mixed with some welcoming the new move while others feel they are an unnecessary gimmick.