Wormadam Pokédex Information
Wormadam first appeared in the game Pokémon Diamond and Pearl which released in Japan on September 28th 2006. 
This Pokémon resembles the larva that turns into a bagworm moth. It has a grey head with a long pointed nose and a long antenna that appears to be knotted at the top. Its appearance changes depending on where it evolved. The materials on hand become a part of its body. It has three forms. In Plant Cloak form its body is a mantle of green foliage, Sandy Cloak form sees it body appear as a mound of sand with small rocks while in Trash Cloak form its body is pink with a magenta collar.
Contents
Wormadam Pokédex Facts
Evolutions
Wormadam Pokédex Entries
TCG Cards
Wormadam Pokédex Facts
English Name – Wormadam
Japanese Name – Minomadamu
First Appearance – 2006 (Pokémon Diamond and Pearl)
Based on – Bagworm Moth
Generation – IV
Pokédex Number – 413
Form – Plant Cloak
Category – Bagworm
Height – 0.5 m
Weight – 6.5 kg
Gender – Female
Type – Bug, Grass
Weakness – Bug, Fire, Flying, Ice, Poison, Rock
Special Abilities – Anticipation

Form – Sandy Cloak
Category – Bagworm
Height – 0.5 m
Weight – 6.5 kg
Gender – Female
Type – Bug, Ground
Weakness – Fire, Flying, Ice, Water
Special Abilities – Anticipation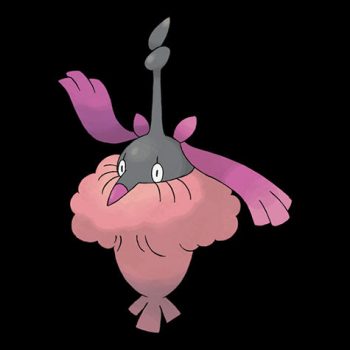 Form – Trash Cloak
Category – Bagworm
Height – 0.5 m
Weight – 6.5 kg
Gender – Female
Type – Bug, Steel
Weakness – Fire
Special Abilities – Anticipation
Wormadam Evolutions
Evolution – Female Plant Cloak Burmy evolves to Plant Cloak Wormadam (level 20)     
Evolution – Female Sandy Cloak Burmy evolves to Sandy Cloak Wormadam (level 20)
Evolution – Female Trash Cloak Burmy evolves to Trash Cloak Wormadam (level 20)
Wormadam Pokédex Entries / Games
Diamond and Pearl  2006
Platinum  2008
HeartGold and SoulSilver  2009
Pokémon Black and White  2011
Black 2 and White 2  2012
Pokémon X and Y  2014   
Omega Ruby, Alpha Sapphire  2015  
Brilliant Diamond, Shining Pearl  2021
Legends Arceus  2022
Wormadam Card List – (scroll to bottom for gallery view)
DP Secret Wonders 2007

Stage – 1
HP – 80
Level – 36
Card Number – 41/132
Stage – 1
HP – 80
Level – 37
Card Number – 42/132
Stage – 1
HP – 70
Level – 38
Card Number – 43/132
POP Series 7  2007

Stage – 1
HP – 80
Level – 37
Card Number – 10/17
Platinum Arceus 2009

Stage – 1
HP – 80
Level – 46
Card Number – 49/99
Stage – 1
HP – 90
Level – 45
Card Number – 50/99
Stage – 1
HP – 90
Level – 44
Card Number – 51/99
XY Fates Collide  2016

Stage – 1
HP – 120
Speciality – None
Card Number – 3/124
Stage – 1
HP – 110
Speciality – None
Card Number – 44/124
Stage – 1
HP – 100
Speciality – None
Card Number – 59/124
SWSH Brilliant Stars 2022

Stage – 1
HP – 110
Speciality – None
Card Number – 010/172
Stage – 1
HP – 110
Speciality – None
Card Number – 077/172
Stage – 1
HP – 110
Speciality – None
Card Number – 098/172
Gallery