What is the Zeraora VMAX and VSTAR Battle Box?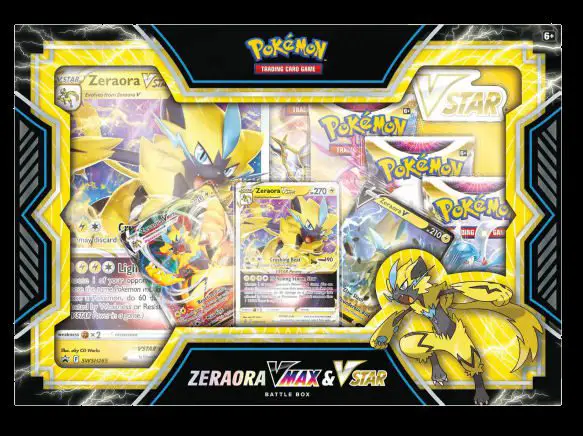 The Zearora VMAX and VSTAR Battle Box is one of two VMAX and VSTAR battle boxes to be released on 14th October 2022.  The other box features Deoxys.
Despite being named 'Battle Box', this new product looks very similar to regular VMAX and VSTAR Collection Boxes. The only noticeable difference is that it contains three promo cards – V, VMAX and VSTAR. 
The box artwork is black and yellow with electric shock waves. There is a large cut out section on the front of the box which is flanked on either side by a grey and black striped pattern. Zeraora in battle mode is featured in the bottom left-hand corner 
The dimensions of the product have not been released but it is likely to be a similar size to most VSTAR collection boxes. The boxes will retail at £29.99 in the UK and $29.99 in the US.
What is in the Zeraora VMAX and VSTAR Battle Box?
The contents of the boxes have been released:
1 foil promo card featuring Zeraora V (SWSH263)
1 foil promo card featuring Zeraora VMAX (SWSH264)
1 foil promo card featuring Zeraora VSTAR (SWSH265)
1 oversize foil card featuring Zeraora VSTAR (SWSH265)
A strategy guide to using these cards to upgrade your deck
4 Pokémon TCG booster packs
1 acrylic VSTAR marker
A code card for Pokémon TCG Live