Beldum Pokédex Information
Beldum first appeared in the games Pokémon Ruby and Sapphire which released in Japan on November 21st 2002. 
Beldum is based on a robot, it is made of blue metal and has a cylindrical shaped body with claws at the end. Its head resembles a metal nut with a single eye in the middle. From its rear, Beldum emits a magnetic force that rapidly pulls opponents in. They get skewered on Beldum's sharp claws.
Contents
Beldum Pokédex Facts
Evolutions
Beldum Pokédex Entries
TCG Cards
Beldum Pokédex Facts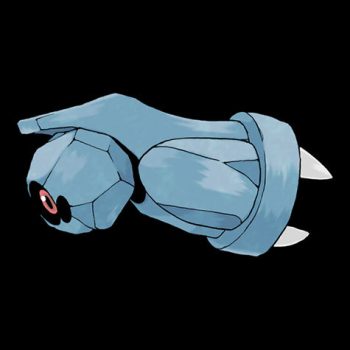 English Name – Beldum
Japanese Name – Danbaru
First Appearance – 2002 (Pokémon Ruby and Sapphire)
Based on – Robot
Generation – III
Pokédex Number – 374
Category – Iron Ball
Height – 0.6 m
Weight – 95.2 kg
Gender – Unknown
Primary Type – Steel
Secondary Type – Psychic
Weaknesses – Dark, Fire, Ghost, Ground
Special Abilities – Clear Body
Beldum Evolutions
Evolution – Beldum evolves to Metang (level 20); evolves to Metagross (level 45)
Beldum Pokédex Entries / Games
Ruby and Sapphire  2002
FireRed, LeafGreen  2004
Pokémon Emerald  2004
Diamond and Pearl  2006
Platinum  2008
HeartGold and SoulSilver  2009
Pokémon Black and White  2011
Black 2 and White 2  2012
Pokémon X and Y  2014   
Omega Ruby, Alpha Sapphire  2015  
Sun and Moon  2016
Ultra Sun and Moon  2017
Sword and Shield  2019
Brilliant Diamond, Shining Pearl  2021
Beldum Card List – (scroll to bottom for gallery view)
Nintendo Promo Cards 2003

Stage – Basic
HP – 50
Speciality – None
Card Number – 022
EX Hidden Legends  2004

Stage – Basic
HP – 50
Speciality – None
Card Number – 28/101

Stage – Basic
HP – 50
Speciality – None
Card Number – 29/101
Stage – Basic
HP – 50
Speciality – None
Card Number – 54/101
EX Deoxys  2005

Stage – Basic
HP – 50
Speciality – None
Card Number – 55/107
EX Delta Species 2005

Stage – Basic
HP – 50
Speciality – None
Card Number – 59/113
EX Power Keepers 2007


Stage – Basic
HP – 50
Speciality – None
Card Number – 45/108
DP Legends Awakened  2008

Stage – Basic
HP – 50
Level – 9
Card Number – 83/146

Stage – Basic
HP – 50
Level – 7
Card Number – 84/146
Platinum Supreme Victors 2009


Stage – Basic
HP – 50
Level – 10
Card Number – 90/147
HGSS Unleashed 2010


Stage – Basic
HP – 60
Speciality – None
Card Number – 44/95
HGSS Undaunted 2010

Stage – Basic
HP – 50
Speciality – None
Card Number – 43/90
BW Plasma Freeze 2013


Stage – Basic
HP – 60
Speciality – None
Card Number – 50/116
XY Ancient Origins  2015


Stage – Basic
HP – 60
Speciality – None
Card Number – 47/98
SM Guardians Rising  2017

Stage – Basic
HP – 60
Speciality – None
Card Number – 83/145
SM Celestial Storm 2018

Stage – Basic
HP – 60
Speciality – None
Card Number – 92/168
Stage – Basic
HP – 70
Speciality – None
Card Number – 93/168
SM Hidden Fates 2019

Stage – Basic
HP – 60
Speciality – None
Card Number – SV30/SV94
SWSH Vivid Voltage 2020


Stage – Basic
HP – 70
Speciality – None
Card Number – 116/185
SWSH Silver Tempest 2022

Stage – Basic
HP – 60
Speciality – None
Card Number – 117/195
Gallery