Blaziken Pokédex Information
Blaziken is a Fire / Fighting type Pokémon that first appeared in the game Pokémon Ruby and Sapphire which released in Japan on November 21st 2002. 
It is a two-legged character that is thought to be based on a chicken. It has a rusty-red coloured body and limbs with tufts of yellow around its ankles and on its chest. A mass of white feathers extend from its head and down its back. Each of its limbs has three digits that end with sharp claws. When evolved to Mega form, its body and limbs are black and red and long steamers of flame can be seen sprouting from its wrists. In battle, Blaziken blows out intense flames from its wrists and attacks foes courageously. The stronger the foe, the more intensely this Pokémon's wrists burn.
Contents
Blaziken Pokédex Facts
Evolutions
Blaziken Pokédex Entries
TCG Cards
Blaziken Pokédex Facts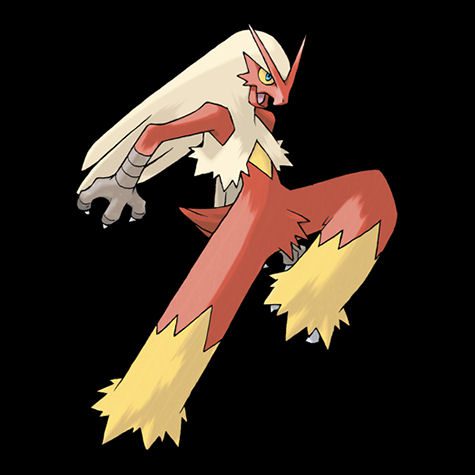 English Name – Blaziken
Japanese Name – Bashāmo
First Appearance – 2003 (Pokémon Ruby and Sapphire)
Based on – Chicken
Generation – III
Pokédex Number – 0257
Regular Form
Category – Blaze
Height – 1.9 m
Weight – 52 kg
Gender – Male, Female
Primary Type –  Fire
Secondary Type – Fighting
Weakness – Flying, Ground, Psychic, Water
Special Abilities – Blaze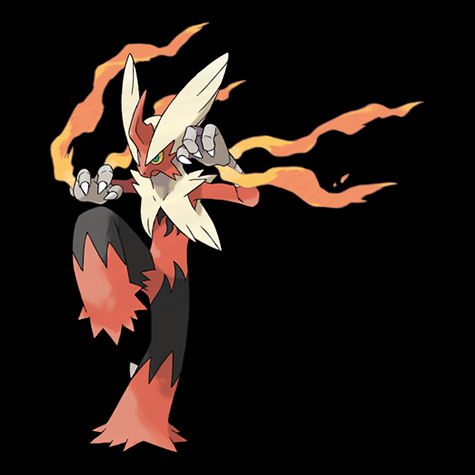 Mega Form – evolves with Blazikenite
Category – Blaze
Height – 1.9 m
Weight – 52 kg
Gender – Unknown
Primary Type –  Fire
Secondary Type – Fighting
Weakness – Flying, Ground, Psychic, Water
Special Abilities – Speed Boost
Blaziken Evolutions
Evolution – Torchic evolves to Combusken (Level 16); evolves to Blaziken (Level 36)
| | | |
| --- | --- | --- |
| Torchic | Level 16 | Combusken |
| Level 36 | Blaziken | |
Blaziken Pokédex Entries / Games
Ruby and Sapphire  2002
Pokémon Emerald  2004
FireRed and LeafGreen  2005
Diamond and Pearl  2006
Platinum  2008
HeartGold and SoulSilver  2009
Pokémon Black and White  2011
Black 2 and White 2  2012
Pokémon X and Y  2014   
Omega Ruby, Alpha Sapphire  2015  
Brilliant Diamond, Shining Pearl  2021
Blaziken Card List – (scroll to bottom for gallery view)
EX Ruby and Sapphire 2003


Stage – 2
HP –  100
Speciality – None
Card Number – 3/109

Stage – 2
HP –  110
Speciality – None
Card Number – 15/109
EX Team Magma vs Team Aqua 2004


Stage – 2
HP –  150
Speciality – ex
Card Number – 89/95
POP Series 1 2004


Stage – 2
HP –  110
Speciality – None
Card Number – 1/17
EX Emerald 2005

Stage – 2
HP –  110
Speciality – None
Card Number – 1/106
EX Holon Phantoms 2006


Stage – 2
HP –  100
Speciality – None
Card Number – 20/110
EX Crystal Guardians 2006


Stage – 2
HP –  150
Speciality – ex
Card Number – 90/100
EX Power Keepers 2007

Stage – 2
HP –  100
Speciality – None
Card Number – 5/108
DP Great Encounters 2008


Stage – 2
HP –  130
Level – 56
Card Number – 1/106
Platinum Base Set 2009


Stage – 2
HP –  130
Level – 59
Card Number – 3/127
Platinum Supreme Victors 2009

Stage – 2
HP –  80
Level – 50
Card Number – 2/147
Stage – Level Up
HP –  110
Level – LV.X
Card Number – 142/147
BW Dark Explorers 2012

Stage – 2
HP –  140
Speciality – None
Card Number – 17/108
XY Promo Cards 2014 – 2016


Stage – 2
HP –  170
Speciality – EX
Card Number – XY54

Stage – Mega
HP –  210
Speciality – EX
Card Number – XY86
XY Furious Fists 2014

Stage – 2
HP –  140
Speciality – None
Card Number – 14/111
XY Primal Clash 2015


Stage – 2
HP –  140
Speciality – None
Card Number – 28/160
SM Celestial Storm 2018


Stage – 2
HP –  240
Speciality – GX
Card Number – 28/168
Stage – 2
HP –  240
Speciality – GX
Card Number – 153/168
Stage – 2
HP –  240
Speciality – GX
Card Number – 170/168
SM Dragon Majesty 2018

Stage – 2
HP –  150
Speciality – None
Card Number – 6/70
SWSH Darkness Ablaze 2020

Stage – 2
HP –  150
Speciality – None
Card Number – 024/189
SWSH Chilling Reign 2021


Stage – Basic
HP –  210
Speciality – V
Form – Rapid Strike
Card Number – 020/198
Stage – VMAX
HP –  320
Speciality – VMAX
Form – Rapid Strike
Card Number – 021/198

Stage – Basic
HP –  210
Speciality – V
Form – Rapid Strike
Card Number – 161/198

Stage – VMAX
HP –  320
Speciality – VMAX
Form – Rapid Strike
Card Number – 200/198
Stage – VMAX
HP –  320
Speciality – VMAX
Form – Rapid Strike
Card Number – 201/198
SWSH Silver Tempest 2022


Stage – Basic
HP –  210
Speciality – V
Card Number – TG14/TG30

Stage – VMAX
HP –  320
Speciality – VMAX
Card Number – TG15/TG30
Gallery