Braviary Pokédex Information
Braviary first appeared in the games Pokémon Black and White which released in Japan on September 18th 2010. 
Braviary is based on the bald eagle and is always male. It is a large bird that is dark blue underneath and dark red on the top of its body. It has a mass of white plumage around its neck and its tail feathers have blue and yellow stripes at the end. It has a large beak and large claws at the end of its feet. Known for its bravery and pride, this majestic Pokémon is often seen as a motif for various kinds of emblems.
In Hisuian form it is larger and heavier with a black body. Its wings are black edged with white and its tail is white. It has a mass of white plumage on its head that is patterned with a green and purple flame design. Screaming a bloodcurdling battle cry, this huge and ferocious bird Pokémon goes out on the hunt. It blasts lakes with shock waves, then scoops up any prey that float to the water's surface.
Contents
Braviary Pokédex Facts
Evolutions
Braviary Pokédex Entries
TCG Cards
Braviary Pokédex Facts

English Name – Braviary
Japanese Name – Wōguru
First Appearance – 2010 (Pokémon Black and White)
Based on – Bald Eagle
Generation – V
Pokédex Number – 628
Normal Form
Category – Valiant
Height – 1.5 m
Weight – 41 kg
Gender – Male
Primary Type – Normal
Secondary Type – Flying
Weakness – Electric, Ice, Rock
Special Ability – Keen Eye, Sheer Force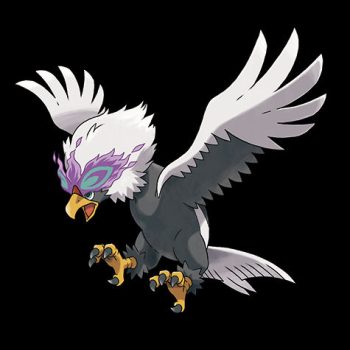 Hisuian Form
Category – Battle Cry
Height – 1.7 m
Weight – 43.4 kg
Gender – Male
Primary Type – Flying
Secondary Type – Psychic
Weakness – Dark, Electric, Ghost, Ice, Rock
Special Ability – None
Braviary Evolutions
Evolution – Rufflet evolves to Braviary (level 54)
Braviary Card List – (scroll to bottom for gallery view)
BW Emerging Powers 2011

Stage – 1
HP –  100
Speciality – None
Card Number – 88/98
BW Dark Explorers 2012


Stage – Basic
HP –  60
Speciality – None
Card Number – 73/108
BW Dragons Exalted 2012

Stage – 1
HP –  100
Speciality – None
Card Number – 112/124
BW Plasma Storm 2013


Stage – 1
HP –  100
Speciality – None
Card Number – 116/135
XY BREAKThrough 2015

Stage – 1
HP –  100
Speciality – None
Card Number – 130/162
XY Steam Siege 2016


Stage – 1
HP –  120
Speciality – None
Card Number – 93/114
SM Cosmic Eclipse 2019

Stage – 1
HP – 130
Speciality – None
Card Number – 178/236
SWSH Evolving Skies 2021

Stage – 1
HP –  130
Speciality – None
Card Number – 137/203
SWSH Astral Radiance 2022


Stage – 1
HP –  130
Speciality – None
Form – Hisuian
Card Number – 132/189
SWSH Silver Tempest 2022

Stage – 1
HP –  120
Speciality – None
Form – Hisuian
Card Number – 149/195
Gallery