Chimecho Pokédex Information
Chimecho first appeared in the game Pokémon Ruby and Sapphire which released in Japan on November 21st 2002. 
This Pokémon is a blue-white character with pink markings that is based on a wind chime. It has a round head with a long body and a yellow protrusion with a disc on its head. Chimecho makes its cries echo inside its hollow body. When this Pokémon becomes enraged, its cries result in ultrasonic waves that have the power to knock foes flying.
Contents
Chimecho Pokédex Facts
Evolutions
Chimecho Pokédex Entries
TCG Cards
Chimecho Pokédex Facts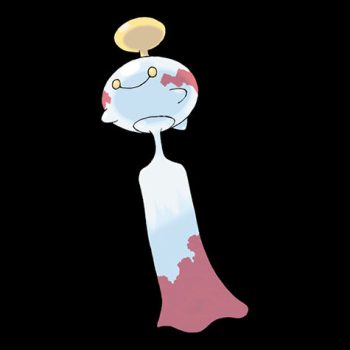 English Name – Chimecho
Japanese Name – Chirīn
First Appearance – 2002 (Pokémon Ruby and Sapphire)
Based on – Wind Chime
Generation – III
Pokédex Number – 358
Category – Wind Chime
Height – 0.6 m
Weight – 1 kg
Gender – Male and Female
Type – Psychic
Weaknesses – Bug, Dark, Ghost
Special Abilities – Levitate
Chimecho Evolutions
Evolution – Chingling evolves to Chimecho (night friendship)
Chimecho Pokédex Entries / Games
Ruby and Sapphire  2002
FireRed, LeafGreen  2004
Pokémon Emerald  2004
Diamond and Pearl  2006
Platinum  2008
HeartGold and SoulSilver  2009
Pokémon Black and White  2011
Black 2 and White 2  2012
Pokémon X and Y  2014   
Omega Ruby, Alpha Sapphire  2015 
Brilliant Diamond, Shining Pearl  2021
Legends Arceus 2022
Chimecho Card List – (scroll to bottom for gallery view)
Nintendo Promo Cards 2003

Stage – Basic
HP – 70
Speciality – None
Card Number – 024
EX Hidden Legends 2004


Stage – Basic
HP – 60
Speciality – None
Card Number – 17/101
EX Emerald 2005


Stage – Basic
HP – 70
Speciality – None
Card Number – 12/106
EX Holon Phantoms  2006


Stage – Basic
HP – 60
Speciality – None
Card Number – 37/110
POP Series 4  2006


Stage – Basic
HP – 60
Speciality – None
Card Number – 1/17
DP Mysterious Treasures  2007


Stage – Basic
HP – 70
Speciality – None
Card Number – 22/123
Platinum Supreme Victors 2009


Stage – Basic
HP – 70
Level – 59
Card Number – 21/147
SM Crimson Invasion 2017


Stage – Basic
HP – 70
Speciality – None
Card Number – 43/111
SWSH Vivid Voltage 2020

Stage – Basic
HP – 70
Speciality – None
Card Number – 072/185
SWSH Battle Styles 2021


Stage – Basic
HP – 70
Speciality – None
Card Number – 059/163
SWSH Brilliant Stars 2022


Stage – Basic
HP – 70
Speciality – None
Card Number – 063/172
SWSH Silver Tempest 2022


Stage – Basic
HP – 70
Speciality – None
Card Number – 074/195
Gallery