Absol Pokédex Information
Absol is a Dark type Pokémon that first appeared in the games Pokémon Ruby and Sapphire which released in Japan on November 21st 2002. It does not evolve.
This Pokémon is a four-legged character that resembles a Chinese mythological animal called Bai Ze that has similarities to a dog or a cat. It is covered in white shaggy fur but has a dark blue face. It also has dark blue claws and tail. It has a scythe-shaped horn on its head. Swift as the wind, Absol races through fields and mountains. Its curved, bow-like horn is acutely sensitive to the warning signs of natural disasters.
In Mega Form its fur is longer and its horn and tail have changed shape and appear fuller. Normally, it dislikes fighting, so it really hates changing to this form for battles.
Contents
Absol Pokédex Facts
Evolutions
Absol Pokédex Entries
TCG Cards
Absol Pokédex Facts
English Name – Absol
Japanese Name – Abusoru
First Appearance – 2002 (Pokémon Ruby and Sapphire)
Based on – Dog / Cat
Generation – III
Pokédex Number – 359
Normal Form
Category – Disaster
Height – 1.5 m
Weight – 47 kg
Gender – Male and Female
Type – Dark
Weaknesses – Bug, Fairy, Fighting
Special Abilities – Pressure, Super Luck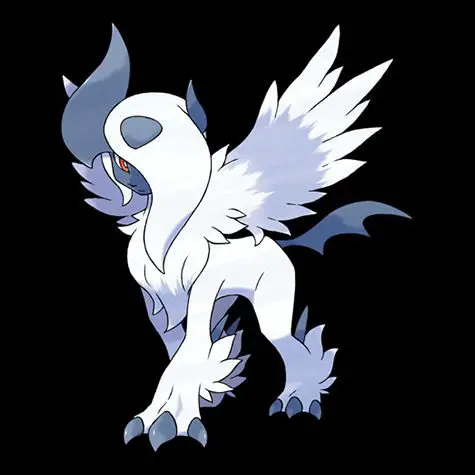 Mega Form
Category – Disaster
Height – 1.2 m
Weight – 49 kg
Gender – Unknown
Type – Dark
Weaknesses – Bug, Fairy, Fighting
Special Abilities – Magic Bounce
Absol Evolutions
Evolution – Absol does not evolve
Absol Pokédex Entries / Games
Ruby and Sapphire  2002
FireRed, LeafGreen  2004
Pokémon Emerald  2004
Diamond and Pearl  2006
Platinum  2008
HeartGold and SoulSilver  2009
Pokémon Black and White  2011
Black 2 and White 2  2012
Pokémon X and Y  2014   
Omega Ruby, Alpha Sapphire  2015 
Sun and Moon  2016
Ultra Sun and Ultra Moon  2017 
Sword and Shield  2019
Brilliant Diamond, Shining Pearl  2021
Absol Card List – (scroll to bottom for gallery view)
EX Dragon 2003

Stage – Basic
HP – 70
Speciality – None
Card Number – 1/97
EX Team Magma vs Team Aqua 2004

Stage – Basic
HP – 70
Speciality – None
Card Number – 96/95
EX Legend Maker  2006

Stage – Basic
HP – 70
Speciality – None
Card Number – 15/92
EX Holon Phantoms  2006

Stage – Basic
HP – 70
Speciality – None
Card Number – 18/110
EX Power Keepers  2007

Stage – Basic
HP – 100
Speciality – ex
Card Number – 92/108
DP Secret Wonders 2007

Stage – Basic
HP – 70
Level – 31
Card Number – 21/132
Platinum Supreme Victors 2009

Absol G
Stage – Basic
HP – 70
Level – 59
Card Number – 1/147
Absol G
Stage – Level Up
HP – 100
Level – LV.X
Card Number – 141/147
HGSS Triumphant 2010


Stage – Basic
HP – 80
Speciality – None
Card Number – 91/102
BW Plasma Freeze 2013

Stage – Basic
HP – 100
Speciality – None
Card Number – 67/116
X Y Promo Cards 2014 – 2016

Stage – Basic
HP – 170
Speciality – EX
Card Number – XY62
Stage – Mega
HP – 210
Speciality – EX
Card Number – XY63
Stage – Basic
HP – 100
Speciality – None
Card Number – XY178
XY Roaring Skies 2015


Stage – Basic
HP – 100
Speciality – None
Card Number – 40/108
SM Guardians Rising 2017


Stage – Basic
HP – 100
Speciality – None
Card Number – 81/145
SM Team Up 2019


Stage – Basic
HP – 100
Speciality – None
Card Number – 88/181
SM Cosmic Eclipse 2019

Stage – Basic
HP – 100
Speciality – None
Card Number – 133/236
SWSH Champion's Path 2020


Stage – Basic
HP – 100
Speciality – None
Card Number – 038/073
SWSH Fusion Strike 2021


Stage – Basic
HP – 100
Speciality – None
Card Number – 164/264
SWSH Astral Radiance 2022

Stage – Basic
HP – 100
Speciality – None
Card Number – 097/189
SWSH Crown Zenith 2023

Stage – Basic
HP – 100
Speciality – None
Card Number – 076/159
Stage – Basic
HP – 100
Speciality – None
Card Number – GG16/GG70
SV Obsidian Flames 2023


Stage – Basic
HP –  210
Speciality – ex
Card Number – 135/197

Stage – Basic
HP –  210
Speciality – ex
Card Number – 214/197
SV Paradox Rift 2023

Stage – Basic
HP – 100
Speciality – None
Card Numbers – 113/182
Gallery