Crabominable Pokédex Information
Crabominable is a Fighting / Ice type Pokémon that first appeared in the games Pokémon Sun and Moon which released Worldwide in November 2016. It evolves from Crabrawler.
This Pokémon is a six-legged character that is based on a crab. It has a white body with a purple and blue underbelly. Its four back limbs are identical and are white with blue feet. Its two front legs are bigger and are white with a purple underside on the second section. Its front legs end with a very big bell-shaped pincer that white with blue and purple base rimed with a white frill. The detached pincers of these Pokémon are delicious. Some Trainers bring Lechonk into the mountains just to search for them.
Contents
Crabominable Pokédex Facts
Evolutions
Crabominable Pokédex Entries
TCG Cards
Crabominable Pokédex Facts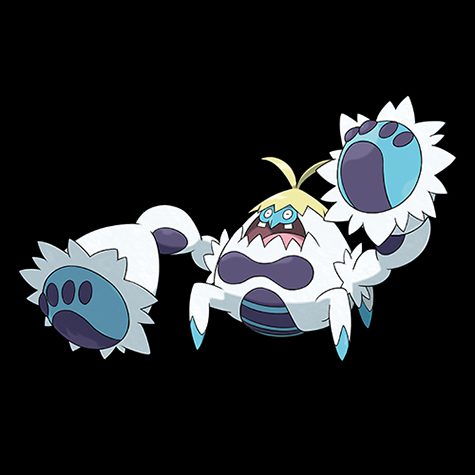 English Name – Crabominable
Japanese Name – Kekenkani
First Appearance – 2016 (Sun & Moon)
Generation – VII
Based on – Crab
Pokédex Number – 0740
Category – Woolly Crab
Height – 1.7 m
Weight –  – 180 kg
Gender – Male, Female
Primary Type – Fighting
Secondary Type – Ice
Weakness – Fairy, Fighting, Fire, Flying, Psychic, Steel
Special Ability – Hyper Cutter, Iron Fist
Crabominable Evolutions
Evolution – Crabrawler evolves to Crabominable (at Mount Lanakila in SM, with Ice Stone in SV)
Crabrawler
Mt Lanakila – SM
Ice Stone – SV
Crabominable
Crabominable Pokédex Entries / Games
Sun & Moon 2016
Ultra Sun and Ultra Moon 2017
Scarlet and Violet 2022
Crabominable Card List – (scroll to bottom for gallery view)
Sun and Moon Promo Cards 2017 – 2019


Stage – 1
HP – 140
Speciality – None
Card Numbers – SM47
Sun and Moon Base Set 2017 


Stage – 1
HP – 140
Speciality – None
Card Numbers – 43/149
SM Burning Shadows 2017

Stage – 1
HP – 140
Speciality – None
Card Numbers – 74/147
SM Unbroken Bonds 2019


Stage – 1
HP – 140
Speciality – None
Card Numbers – 105/214
SM Cosmic Eclipse 2019


Stage – 1
HP – 140
Speciality – None
Card Numbers – 122/236
SWSH Chilling Reign 2021 


Stage – 1
HP – 150
Speciality – None
Card Numbers – 085/198
SWSH Fusion Strike 2021


Stage – Basic
HP – 220
Speciality – V
Card Numbers – 076/264

Stage – Basic
HP – 220
Speciality – V
Card Numbers – 248/264
SV Obsidian Flames 2023

Stage – 1
HP – 160
Speciality – None
Card Numbers – 115/197
Gallery