Dartrix Pokédex Information
Dartrix is a Grass / Flying type Pokémon that first appeared in the games Pokémon Sun and Moon which were released Worldwide in November 2016. It evolves from Rowlet and evolves to Decidueye.
This Pokémon is a two-legged character that is based on an owl. It has a white face and body with a brown ruff around its neck that is decorated with two green leaves. Its wings are white with green and orange feathers where they join the body. Two green arcs protect its eyes This narcissistic Pokémon is a clean freak. If you don't groom it diligently, it will stop listening to you.
Contents
Dartrix Pokédex Facts
Evolutions
Dartrix Pokédex Entries
TCG Cards
Dartrix Pokédex Facts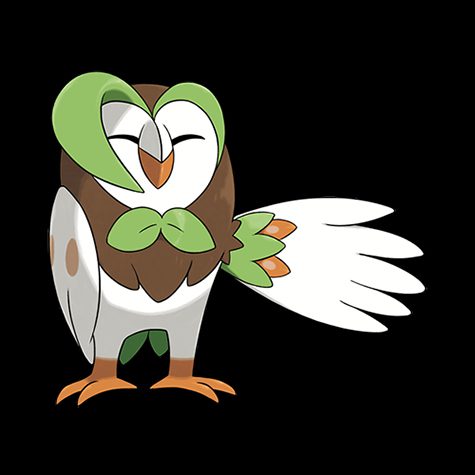 English Name – Dartrix
Japanese Name – Fukusurō
First Appearance – 2016 (Sun & Moon)
Generation – VII
Based on – Owl
Pokédex Number – 0723
Category – Blade Quill
Height – 0.7 m
Weight –  16 kg
Gender – Male, Female
Primary Type – Grass
Secondary Type – Flying
Weakness – Fire, Flying, Ice, Poison, Rock
Special Ability – Overgrow
Dartrix Evolutions
Evolution – Rowlet evolves to Dartrix (Level 17); evolves to Decidueye (Level 34)
| | | |
| --- | --- | --- |
| Rowlet | Level 17 | Dartrix |
| Level 34 | Decidueye | |
Dartrix Pokédex Entries / Games
Sun & Moon  2016
Ultra Sun and Ultra Moon  2018
Sword and Shield  2019
Legends Arceus  2022
Dartrix Card List – (scroll to bottom for gallery view)
Sun and Moon Base Set 2017 


Stage – 1
HP – 80
Speciality – None
Card Numbers – 10/149
SM Hidden Fates 2019 


Stage – 1
HP – 80
Speciality – None
Card Numbers – SV3/SV94
SM Cosmic Eclipse 2019

Stage – 1
HP – 80
Speciality – None
Card Numbers – 19/236
SWSH Darkness Ablaze 2020

Stage – 1
HP – 80
Speciality – None
Card Numbers – 012/189
SWSH Shining Fates 2021


Stage – 1
HP – 80
Speciality – None
Card Numbers – 007/072
Stage – 1
HP – 80
Speciality – None
Card Numbers – SV002/SV122
SWSH Astral Radiance 2022

Stage – 1
HP – 90
Speciality – None
Card Numbers – 020/189

SV Obsidian Flames 2023

Stage – 1
HP – 90
Speciality – None
Card Numbers – 014/197
Gallery