Dewpider Pokédex Information
Dewpider first appeared in the games Pokémon Sun and Moon which released globally on November 18th 2016. 
This Pokémon is a six-legged character that resembles a spider. Its body is dark grey while its legs are bright green. Three of its legs hold a clear water bubble over its head while the other three are for walking. It forms a water bubble at the rear of its body and then covers its head with it. Meeting another Dewpider means comparing water-bubble sizes.
Contents
Dewpider Pokédex Facts
Evolutions
Dewpider Pokédex Entries
TCG Cards
Dewpider Pokédex Facts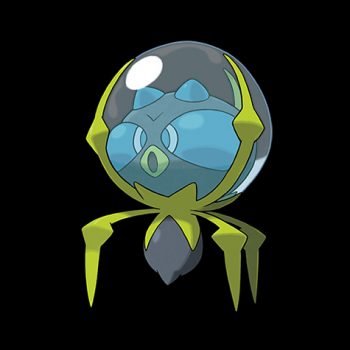 English Name – Dewpider
Japanese Name – Shizukumo
First Appearance – 2016 (Sun & Moon)
Based on – Spider
Generation – VII
Pokédex Number – 751
Category – Water Bubble
Height – 0.3 m
Weight – 4 kg
Gender – Male, Female
Type – Bug, Water
Weakness – Electric, Flying, Rock
Special Ability – Water Bubble
Dewpider Evolutions
Evolution – Dewpider evolves to Araquanid (level 22)
Dewpider Pokédex Entries / Games
Sun & Moon 2016
Ultra Sun and Ultra Moon 2018
Sword & Shield 2019
Dewpider Card List – (scroll to bottom for gallery view)
Sun and Moon Base Set 2017

Stage – Basic
HP – 60
Speciality – None
Card Numbers – 45/149
SM Burning Shadows 2017


Stage – Basic
HP – 60
Speciality – None
Card Numbers – 14/147
SM Ultra Prism 2018

Stage – Basic
HP – 60
Speciality – None
Card Numbers – 16/156
SM Forbidden Light 2018

Stage – Basic
HP – 60
Speciality – None
Card Numbers – 32/131
SM Unified Minds 2019

Stage – Basic
HP – 60
Speciality – None
Card Numbers – 48/236
SM Cosmic Eclipse 2019


Stage – Basic
HP – 60
Speciality – None
Card Numbers – 64/236
SWSH Fusion Strike 2021

Stage – Basic
HP – 120
Speciality – None
Card Numbers -019/264
SWSH Silver Tempest 2022


Stage – Basic
HP – 60
Speciality – None
Card Numbers -047/195
Gallery