Araquanid Pokédex Information
Araquanid first appeared in the games Pokémon Sun and Moon which released globally on November 18th 2016. 
This Pokémon is a six-legged character that resembles a large spider. Its body is dark grey while its legs are bright green. Each leg has a white bubble at the knee joint and there is a clear water bubble over its head. It launches water bubbles with its legs, drowning prey within the bubbles. This Pokémon can then take its time to savour its meal.
Contents
Araquanid Pokédex Facts
Evolutions
Araquanid Pokédex Entries
TCG Cards
Araquanid Pokédex Facts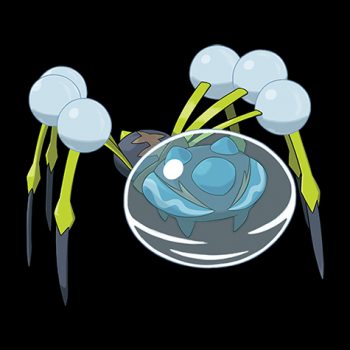 English Name – Araquanid
Japanese Name – Onishizukumo
First Appearance – 2016 (Sun & Moon)
Based on – Spider
Generation – VII
Pokédex Number – 752
Category – Water Bubble
Height – 1.8 m
Weight – 82 kg
Gender – Male, Female
Primary Type – Water
Secondary Type – Bug
Weakness – Electric, Flying, Rock
Special Ability – Water Bubble
Araquanid Evolutions
Evolution – Dewpider evolves to Araquanid (level 22)
Araquanid Pokédex Entries / Games
Sun & Moon 2016
Ultra Sun and Ultra Moon 2018
Sword & Shield 2019
Sword & Shield Expansion 2020
Araquanid Card List – (scroll to bottom for gallery view)
Sun and Moon Base Set 2017


Stage – 1
HP – 100
Speciality – None
Card Numbers – 46/149
SM Burning Shadows 2017


Stage – 1
HP – 100
Speciality – None
Card Numbers – 15/147
SM Ultra Prism 2018

Stage – 1
HP – 100
Speciality – None
Card Numbers – 17/156
SM Forbidden Light 2018


Stage – 1
HP – 100
Speciality – None
Card Numbers – 33/131
SM Unified Minds 2019

Stage – 1
HP – 100
Speciality – None
Card Numbers – 49/236
SM Cosmic Eclipse 2019


Stage – 1
HP – 100
Speciality – None
Card Numbers – 65/236
SWSH Fusion Strike 2021


Stage – 1
HP – 120
Speciality – None
Card Numbers -020/264
SWSH Silver Tempest 2022

Stage – 1
HP – 120
Speciality – None
Card Numbers -048/195
Gallery