Dipplin Pokédex Information
Dipplin is an Grass / Dragon type Pokémon that first appeared in the Pokémon Scarlet and Violet expansion which released in February 2023. 
Dipplin is a brown / green worm-like Pokemon that lives inside a red toffee-apple with a long thin stalk. At the base of the stalk are two yellow leaves with eye-like markings on each leaf. The body of the apple is covered with a red substance which has dripped down to the base of the apple. 
Contents
Dipplin Pokédex Facts
Evolutions
Dipplin Pokédex Entries
TCG Cards
Dipplin Facts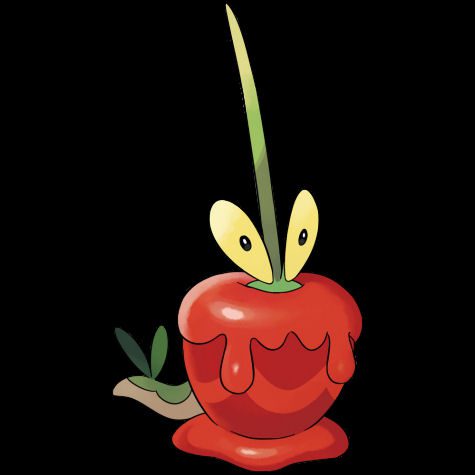 English Name – Dipplin
Japanese Name – Kamitchu
First Appearance – 2022 (Pokémon Scarlet and Violet)
Generation – IX
Pokédex Number – 1011
Based on – Worm / Toffee Apple
Category – tbc
Height – 0.4 m
Weight – 4.4 kg
Gender – tbc
Primary Type – Grass
Secondary Type – Dragon
Weakness – tbc
Special Ability – Sticky Hold
Dipplin Evolutions
Evolution – Applin evolves to Dipplin (with Syrupy Apple)
| | | |
| --- | --- | --- |
| Applin | Syrupy Apple | Dipplin |
Dipplin Pokédex Entries / Games
Pokémon Scarlet and Violet  2022
Dipplin Card List – (scroll to bottom for gallery view)
Cards not yet revealed