Electivire Pokédex Information
Electivire first appeared in the game Pokémon Diamond and Pearl which released in Japan on September 28th 2006. 
This Pokémon is a large two-legged yellow and black striped creature that is based on a Yeti. It has two yellow antennae on its head and two long black tails the tips of which are red. The amount of electrical energy this Pokémon produces is proportional to the rate of its pulse. The voltage jumps while Electivire is battling.
Contents
Electivire Pokédex Facts
Evolutions
Electivire Pokédex Entries
TCG Cards
Electivire Pokédex Facts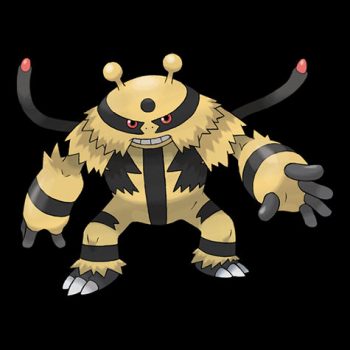 English Name – Electivire
Japanese Name -Erekiburu
First Appearance – 2006 (Pokémon Diamond and Pearl)
Generation – IV
Pokédex Number – 466
Category – Thunderbolt
Height – 1.8 m
Weight – 138.6 kg
Gender – Male, Female 
Type – Electric
Weakness – Ground
Special Ability – Motor Drive
Electivire Evolutions
Evolution – Elekid evolves to Electabuzz (level 30); evolves to Electivire (trade while holding Electirizer)
| | | |
| --- | --- | --- |
| Elekid | Level 30 | Electabuzz |
| Trade holding Electirizer | Electivire | |
Electivire Pokédex Entries / Games
Diamond and Pearl  2006
Platinum  2008
HeartGold and SoulSilver  2009
Pokémon Black and White  2011
Black 2 and White 2  2012
Pokémon X and Y  2014   
Omega Ruby, Alpha Sapphire  2015  
Sun and Moon  2016
Ultra Sun and Ultra Moon  2017
Sword and Shield  2019
Brilliant Diamond, Shining Pearl  2021
Legends Arceus  2022
Electivire Card List – (scroll to bottom for gallery view)
Diamond and Pearl Base Set 2007


Stage – 1
HP – 100
Level – 46
Card Number – 3/130
DP Mysterious Treasures 2007

Stage – Level Up
HP – 120
Level – Lv.X
Card Number – 121/123
DP Secret Wonders 2007


Stage – 1
HP – 100
Level – 50
Card Number – 25/132
Platinum Supreme Victors 2009


Electivire FB
Stage – 1
HP – 90
Level – 50
Card Numbers – 4/147

Electivire FB
Stage – 1
HP – 120
Level – Lv.X
Card Numbers – 144/147
HGSS Triumphant 2010


Stage – 1
HP – 100
Speciality – None
Card Numbers – 20/102
BW Boundaries Crossed 2012


Stage – 1
HP – 120
Speciality – None
Card Number – 54/149
XY Furious Fists 2014


Stage – 1
HP – 120
Speciality – None
Card Number – 30/111
XY BREAKPoint 2016

Stage – 1
HP – 110
Speciality – None
Card Number – 43/122
SM Burning Shadows 2017

Stage – 1
HP – 140
Speciality – None
Card Number – 43/147
SM Ultra Prism 2018

Stage – 1
HP – 140
Speciality – EX
Card Number – 44/156
SM Lost Thunder 2018

Stage – 1
HP – 140
Speciality – None
Card Number – 72/214
SWSH Rebel Clash 2020

Stage – Basic
HP – 140
Speciality – None
Card Numbers – 059/192
SWSH Battle Styles 2021


Stage – Basic
HP – 140
Speciality – None
Card Numbers – 045/163
SWSH Brilliant Stars 2022

Stage – 1
HP – 140
Speciality – None
Card Numbers – 047/172
SWSH Crown Zenith 2023

Stage – 1
HP – 140
Speciality – None
Card Numbers – GG08/GG70
Gallery