It has been announced that the eighth expansion set in the Sword and Shield series will be called Fusion Strike and is scheduled for release on 12th November 2021. 
The release comes just a month after the release of the 25th Anniversary special set, Celebrations. 
It is based on the Japanese set Fusion Arts and will include the cards that were cut from Evolving Skies. 
New Fusion Strike Form
The Battle Styles expansion set, released in March 2021 introduced Rapid Strike and Single Strike Form. Fusion Strike will introduce a third form – Fusion Strike which focuses on teamwork. The launch of the new Fusion form ties in with the V-Union cards that are being released in special V-Union collection box sets in September 2021. 
Fusion Cards from the Japanese Fusion Arts Set are expected to be in the Fusion Strike set. According to the website Pokébeach these include:
Mew V
Mew VMAX
Hoopa V
Genesect V
Oricorio
Clamperl
Huntail
Gorebyss
Toxel
Toxtricity
Dreepy
Drakloak
Dragapult
Meloetta
Smeargle
Elesa's Sparkle
Chili, Cilan and Cress
Power Tablet
Fusion Energy
The set will include
20 Pokémon V and 13 full-art Pokémon V
8 Pokémon VMAX
20 Trainer cards
7 full-art Supporter cards
1 Special Energy card
Fusion Strike Pack Artwork Revealed
The Japanese Fusion Arts set places Mew at the centre of the set with the popular Pokémon featuring in the artwork for the booster packs. As expected Mew features in the artwork for the booster packs alongside Boltund, Genesect and Gengar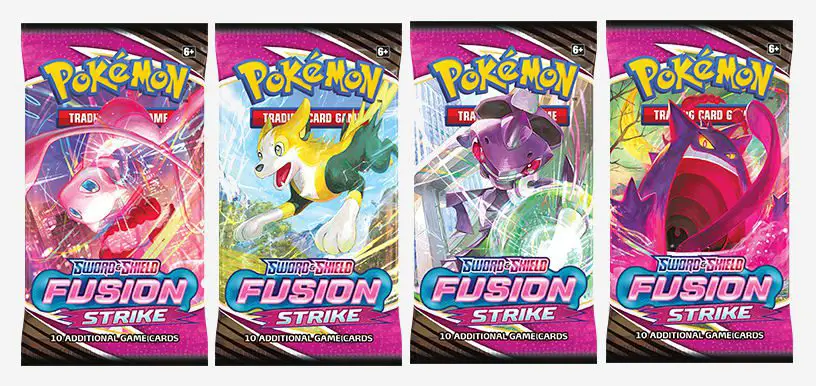 The artwork for Elite Trainer Box also features Mew on a pink, blue and purple background.