Grimer Pokédex Information
Grimer is a Poison type Pokémon that first appeared in the games Pokémon Red and Blue which released in Japan on 12th September 1999. It evolves to Muk.
Grimer is a blob of purple and grey poisonous sludge that likely represents pollution. It is roughly dome shaped with two projections at each side which form arms that each have hands with three digits. It has two bulbous white eyes and a large cavernous mouth that is grey inside. Born from sludge, these Pokémon now gather in polluted places and increase the bacteria in their bodies.
When found in the Alola region, it takes on a different form. Alolan Grimer is a Poison / Dark type Pokémon and is shorter and lighter than its regular counterpart. While its overall form remains the same, its body is now light green with darker green lines. Its mouth has a rim of yellow sludge, while its tongue is blue. It has a passion for trash above all else, speedily digesting it and creating brilliant crystals of sparkling poison.
Contents
Grimer Pokédex Facts
Evolutions
Grimer Pokédex Entries
TCG Cards
Grimer Pokédex Facts
English Name – Grimer
Japanese Name – Betobetā
First Appearance – 1999 (Pokémon Red and Blue)
Based on – Pollution / Sludge
Generation – I
Pokédex Number – 0088
Regular Form
Category – Sludge
Height – 0.9 m
Weight – 30 kg
Gender – Male, Female
Type – Poison
Weakness – Ground, Psychic
Special Abilities – Stench, Sticky Hold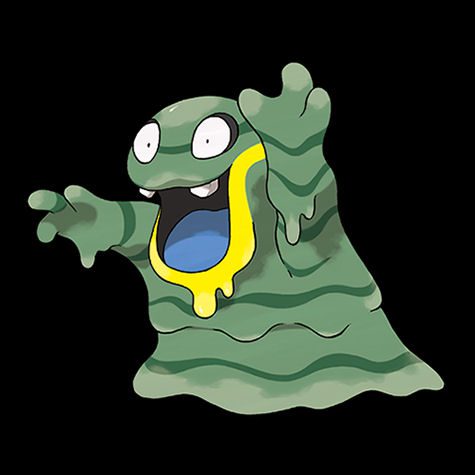 Alolan Form
Category – Sludge
Height – 0.7 m
Weight – 42 kg
Gender – Male, Female
Primary Type – Poison
Secondary Type – Dark
Weakness – Ground, Psychic
Special Abilities – Gluttony, Poison Touch
Grimer Evolutions
Evolution – Grimer evolves to Muk (Level 38)
Grimer Pokédex Entries / Games
Pokémon Red and Blue 1999
Pokémon Yellow  2000
Pokémon Stadium  2000
Gold and Silver  1999
Pokémon Crystal 2000
Pokémon Stadium 2 2000
Ruby and Sapphire  2002
Pokémon Emerald  2004
FireRed and LeafGreen  2005
Diamond and Pearl  2006
Platinum  2008
HeartGold and SoulSilver  2009
Pokémon Black and White  2011
Black 2 and White 2  2012 
Pokémon X and Y  2013
Omega Ruby, Alpha Sapphire  2015  
Sun and Moon 2016
Ultra Sun and Ultra Moon 2017
Let's Go Pikachu, Let's Go Eevee 2018
Brilliant Diamond, Shining Pearl  2021
Scarlet and Violet 2022
Grimer Card List – (scroll to bottom for gallery view)
Pokémon Fossil 1999

Stage – Basic
HP – 50
Level – 17
Card Number – 48/62
Team Rocket 2000

Stage – Basic
HP – 40
Level -10
Card Number – 57/82
Pokémon Gym Challenge 2000

Stage – Basic
HP – 50
Level – 19
Card Number – 78/132
Pokémon Legendary Collection 2002

Stage – Basic
HP – 50
Level – 17
Card Number – 78/110
Pokémon Aquapolis 2003

Stage – Basic
HP – 50
Speciality – None
Card Number – 79/147
EX Dragon 2003


Stage – Basic
HP – 50
Speciality – ex
Card Number – 57/97
EX Team Rocket Returns 2004

Stage – Basic
HP – 50
Speciality – None
Card Number – 56/109
EX Legend Maker 2006

Stage – Basic
HP – 40
Speciality – None
Card Number – 54/92
DP Secret Wonders 2007


Stage – Basic
HP – 60
Level – 15
Card Number – 88/132
Platinum Base Set 2009


Stage – Basic
HP – 60
Level – 23
Card Number – 75/127
HGSS Undaunted 2010

Stage – Basic
HP – 60
Speciality – None
Card Number – 50/90
BW Next Destinies 2012


Stage – Basic
HP – 70
Speciality – None
Card Number – 52/99
BW Plasma Freeze 2013

Stage – Basic
HP – 70
Speciality – None
Card Number – 45/116
XY Double Crisis 2015


Stage – Basic
HP – 70
Speciality – None
Card Number – 7/34
Sun and Moon Base Set 2017

Stage – Basic
HP – 80
Speciality – None
Form Alolan
Card Number – 57/149
SM Burning Shadows 2017

Stage – Basic
HP – 80
Speciality – None
Form – Alolan
Card Number – 83/147
SM Team Up 2019


Stage – Basic
HP –  80
Speciality – None
Card Number – 62/181
Stage – Basic
HP –  70
Speciality – None
Form – Alolan
Card Number – 83/181
SM Unified Minds 2019

Stage – Basic
HP –  80
Speciality – None
Form – Alolan
Card Number – 127/236
SM Cosmic Eclipse 2019

Stage – Basic
HP –  80
Speciality – None
Form – Alolan
Card Number – 130/236
SWSH Darkness Ablaze 2020

Stage – Basic
HP –  80
Speciality – None
Card Number – 100/189
SWSH Brilliant Stars 2022

Stage – Basic
HP –  80
Speciality – None
Card Number – 084/172
Scarlet and Violet Base Set 2023

Stage – Basic
HP –  80
Speciality – None
Card Number – 126/198
SV 151 2023


Stage – Basic
HP –  80
Speciality – None
Card Number – 088/165
Gallery