Hariyama Pokédex Information
Hariyama is a Fighting type Pokémon that first appeared in the game Pokémon Ruby and Sapphire which released in Japan on November 21st 2002. It evolves from Makuhita.
Hariyama is a large humanoid character that is based on a Sumo Wrestler. Its upper body, head and arms are cream coloured and it has very large pink hands. It has a huge lower body that is yellow and its muscular legs are dark blue. Although they enjoy comparing their strength, they're also kind. They value etiquette, praising opponents they battle.
Contents
Hariyama Pokédex Facts
Evolutions
Hariyama Pokédex Entries
TCG Cards
Hariyama Pokédex Facts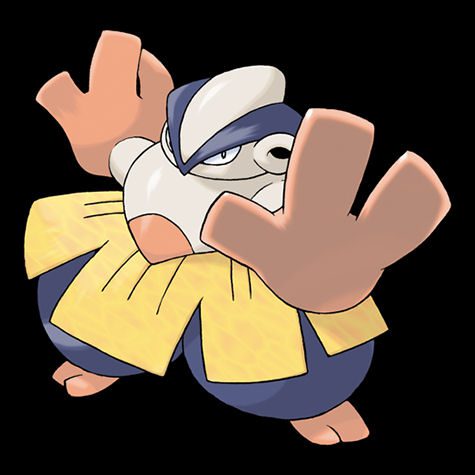 English Name – Hariyama
Japanese Name – Hariteyama
First Appearance – 2003 (Pokémon Ruby and Sapphire)
Based on – Sumo Wrestler
Generation – III
Pokédex Number – 297
Category – Arm thrust
Height – 2.3 m
Weight – 253.8 kg
Gender – Male, Female
Type –  Fighting
Weakness – Fairy, Flying, Psychic
Special Abilities – Guts, Thick Fat
Hariyama Evolutions
Evolution – Makuhita evolves to Hariyama (Level 24)
| | | |
| --- | --- | --- |
| Makuhita | Level 24 | Hariyama |
Hariyama Pokédex Entries / Games
Ruby and Sapphire  2002
Pokémon Emerald  2004
FireRed and LeafGreen  2005
Diamond and Pearl  2006
Platinum  2008
HeartGold and SoulSilver  2009
Pokémon Black and White  2011
Black 2 and White 2  2012
Pokémon X and Y  2014   
Omega Ruby, Alpha Sapphire  2015  
Sun and Moon 2016
Ultra Sun and Ultra Moon 2017
Brilliant Diamond, Shining Pearl  2021
Scarlet and Violet  2022
Hariyama Card List – (scroll to bottom for gallery view)
EX Ruby and Sapphire 2003

Stage – 1
HP –  90
Speciality – None
Card Number – 8/109
Stage – 1
HP –  80
Speciality – None
Card Number – 33/109
EX Deoxys 2005


Stage – 1
HP –  110
Speciality – ex
Card Number – 100/107
EX Emerald 2005

Stage – 1
HP –  80
Speciality – None
Card Number – 31/106
EX Delta Species 2005


Stage – 1
HP –  80
Speciality – None
Card Number – 44/113
DP Great Encounters 2008

Stage – 1
HP –  100
Level – 38
Card Number – 41/106
Platinum Arceus 2009

Stage – 1
HP –  110
Level – 42
Card Number – 20/99
HGSS Undaunted 2010

Stage – 1
HP –  100
Speciality – None
Card Number – 14/90
BW Plasma Freeze 2013


Stage – 1
HP –  120
Speciality – None
Card Number – 63/116
XY Furious Fists 2014

Stage – 1
HP –  120
Speciality – None
Card Number – 52/111
Sun and Moon Base Set 2017


Stage – 1
HP –  130
Speciality – None
Card Number – 68/149
SWSH Fusion Strike 2021


Stage – 1
HP –  140
Speciality – None
Form – Single Strike
Card Number – 143/264
SWSH Lost Origin 2022


Stage – 1
HP –  140
Speciality – None
Card Number – 098/196
SV Paldea Evolved 2023

Stage – 1
HP –  140
Speciality – None
Card Number – 113/193
Gallery