Hatenna Pokédex Information
Hatenna first appeared in the game Pokémon Sword and Shield which released Worldwide on 15th November 2019. 
Hatenna is a small, pink two-legged character that is based on a Witch. It has a mass of blue hair that falls so it resembles the brim of a hat, and from which there is a pink protrusion that ends in a point. Via the protrusion on its head, it senses other creatures' emotions. If you don't have a calm disposition, it will never warm up to you.
Contents
Hatenna Pokédex Facts
Evolutions
Hatenna Pokédex Entries
TCG Cards
Hatenna Pokédex Facts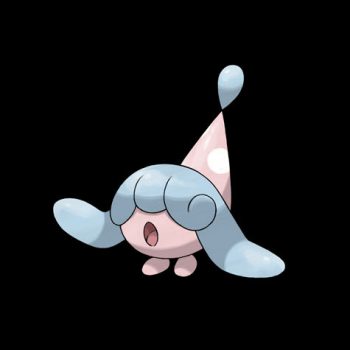 English Name – Hatenna
Japanese Name – Miburimu
First Appearance – 2020 (Pokémon Sword and Shield)
Generation – VIII
Pokédex Number – 856
Based on – Witch
Category – Calm
Height – 0.4 m
Weight – 3.4 kg
Gender – Female 
Type – Psychic
Weakness – Bug, Dark, Ghost
Special Ability – Anticipation, Healer
Hatenna Evolutions
Evolution – Hatenna evolves to Hattrem (level 32), evolves to Hatterene (Level 42)
| | | |
| --- | --- | --- |
| Hatenna | Level 32 | Hattrem |
| Level 42 | Hatterene | |
Hatenna Pokédex Entries / Games
Pokémon Sword and Shield 2020
Scarlet and Violet 2022
Hatenna Card List – (scroll to bottom for gallery view)
Sword and Shield Promo Cards 2020 – 

Stage – Basic
HP – 60
Speciality – None
Card Number – SWSH040
SWSH Rebel Clash 2020


Stage – Basic
HP – 60
Speciality – None
Card Number – 083/192
SWSH Champion's Path 2020


Stage – Basic
HP – 60
Speciality – None
Card Number – 018/073
SWSH Shining Fates 2021


Stage – Basic
HP – 60
Speciality – None
Card Number – SV054/SV122
SWSH Chilling Reign 2021

Stage – Basic
HP – 60
Speciality – None
Card Number – 071/198
Gallery