Hatterene Pokédex Information
Hatterene first appeared in the game Pokémon Sword and Shield which released Worldwide on 15th November 2019. 
Hatterene is a pink and blue character that is based on a witch. Its lower body is pale pink changing to deeper pink for its lower face. Its upper face and hat are blue. Its blue hair is piled on its head to resemble a pointed hat which has a long tentacle extending from the end. At the end of the tentacle is a hand-like appendage. It emits psychic power strong enough to cause headaches as a deterrent to the approach of others.
In Gigantamax form, it is much taller and heavier. It is said to be based on the Legendary story of Rapunzel. In this form it has three tentacles extending from its hat and the hand-like appendage is gone. This Pokémon can read the emotions of creatures over 30 miles away. The minute it senses hostility, it goes on the attack.
Contents
Hatterene Pokédex Facts
Evolutions
Hatterene Pokédex Entries
TCG Cards
Hatterene Pokédex Facts
English Name – Hatterene
Japanese Name – Burimuon
First Appearance – 2020 (Pokémon Sword and Shield)
Generation – VIII
Pokédex Number – 858
Normal Form
Based on – Witch
Category – Silent
Height – 2.1 m
Weight – 5.1 kg
Gender – Female 
Primary Type – Psychic
Secondary Type – Fairy
Weakness – Ghost, Poison, Steel
Special Ability – Anticipation, Healer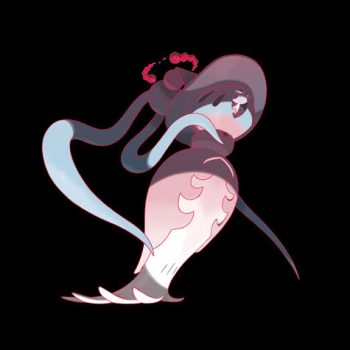 Gigantamax Form
Based on – Witch / Rapunzel Legend
Category – Silent
Height – > 26 m
Weight – Unknown
Gender – Female 
Primary Type – Psychic
Secondary Type – Fairy
Weakness – Ghost, Poison, Steel
Special Ability – Anticipation, Healer
Hatterene Evolutions
Evolution – Hatenna evolves to Hattrem (level 32), evolves to Hatterene (Level 42)
| | | |
| --- | --- | --- |
| Hatenna | Level 32 | Hattrem |
| Level 42 | Hatterene | |
Hatterene Pokédex Entries / Games
Pokémon Sword and Shield 2020
Scarlet and Violet 2022
Hatterene Card List – (scroll to bottom for gallery view)
Sword and Shield Promo Cards 2020 –

Stage – Basic
HP – 200
Speciality – V
Card Number – SWSH055
SWSH Rebel Clash 2020

Stage – 2
HP – 150
Speciality – None
Card Number – 085/192
SWSH Champion's Path 2020


Stage – 2
HP – 150
Speciality – None
Card Number – 020/073
SWSH Shining Fates 2021


Stage – 2
HP – 150
Speciality – None
Card Number – SV056/SV122
SWSH Chilling Reign 2021

Stage – 2
HP – 130
Speciality – None
Card Number – 073/198
SWSH Crown Zenith 2023

Stage – Basic
HP – 200
Speciality – V
Card Number – 065/159
Stage – VMAX
HP – 320
Speciality – VMAX
Card Number – 066/159
Stage – VMAX
HP – 320
Speciality – VMAX
Card Number – GG47/GG70
Gallery