Illumise Pokédex Information
Illumise first appeared in the game Pokémon Ruby and Sapphire which released in Japan on November 21st 2002. 
Illumise is a two-legged character based on a firefly. It has a black body, arms and legs with purple markings at the top of its arms and legs. It has a bib-like front which is blue with black lines. Above this is a yellow feature that resembles a collar. Its head is blue with two yellow ears. Across the top of its head is a purple feature that curls around the front of its head. Illumise also has two small blue wings on its back. It attracts a swarm of Volbeat using a sweet fragrance. Once the Volbeat have gathered, this Pokémon leads the lit-up swarm in drawing geometric designs on the canvas of the night sky.
Contents
Illumise Pokédex Facts
Evolutions
Illumise Pokédex Entries
TCG Cards
Illumise Pokédex Facts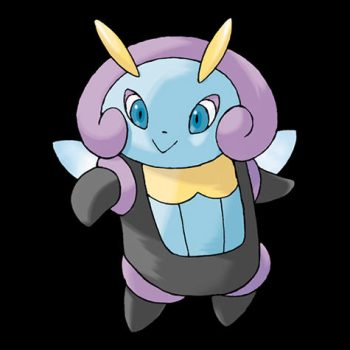 English Name – Illumise
Japanese Name – Irumīze
First Appearance – 2002 (Pokémon Ruby and Sapphire)
Based on – Firefly
Generation – III
Pokédex Number – 314
Category – Firefly
Height – 0.6 m
Weight – 17.7 kg
Gender – Female
Type – Bug
Weaknesses – Fire, Flying, Rock
Special Abilities – Oblivious, Tinted Lens
Illumise Evolution
Evolution – Illumise does not evolve
Illumise Pokédex Entries / Games
Ruby and Sapphire  2002
FireRed, LeafGreen  2004
Pokémon Emerald  2004
Diamond and Pearl  2006
Platinum  2008
HeartGold and SoulSilver  2009
Pokémon Black and White  2011
Black 2 and White 2  2012
Pokémon X and Y  2014   
Omega Ruby, Alpha Sapphire  2015 
Brilliant Diamond, Shining Pearl  2021
Illumise Card List – (scroll to bottom for gallery view)
EX Sandstorm 2003

Stage – Basic
HP – 60
Speciality – None
Card Number – 38/100
EX Emerald 2005


Stage – Basic
HP – 60
Speciality – None
Card Number – 32/106
EX Delta Species 2005

Stage – Basic
HP – 60
Speciality – None
Card Number – 45/113
DP Great Encounters 2008


Stage – Basic
HP – 70
Level – 29
Card Number – 71/106
HGSS Triumphant 2010

Stage – Basic
HP – 70
Speciality – None
Card Number – 64/102
XY Base Set 2014


Stage – Basic
HP – 70
Speciality – None
Card Number – 9/146
XY Primal Clash 2015

Stage – Basic
HP – 70
Speciality – None
Card Number – 18/160
SM Celestial Storm 2018


Stage – Basic
HP – 70
Speciality – None
Card Number – 18/168
Gallery