Roselia Pokédex Information
Roselia first appeared in the game Pokémon Ruby and Sapphire which released in Japan on November 21st 2002. 
Roselia is based on a rose. Its body is comprised of dark green and light green leaves with the lower points of two leaves forming its legs. It has a pale green face covered with a dark green cap that has a zig-zag edge and three thorns on top. At the ends of its arms are a red and blue rose flower. Its flowers give off a relaxing fragrance. The stronger its aroma, the healthier the Roselia is.
Contents
Roselia Pokédex Facts
Evolutions
Roselia Pokédex Entries
TCG Cards
Roselia Pokédex Facts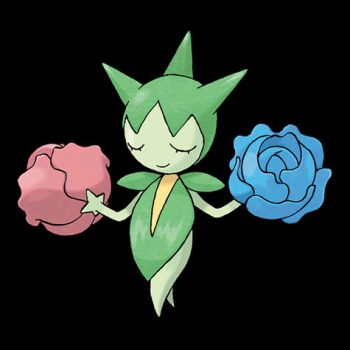 English Name – Roselia
Japanese Name – Rozeria
First Appearance – 2002 (Pokémon Ruby and Sapphire)
Based on – Plant / Rose
Generation – III
Pokédex Number – 315
Category – Thorn
Height – 0.3 m
Weight – 2.0 kg
Gender – Male, Female
Primary Type – Grass
Secondary Type – Poison
Weaknesses – Fire, Flying, Ice, Psychic
Special Abilities – Natural Cure, Poison Point
Roselia Evolution
Evolution – Budew evolves to Roselia (level up with Friendship); evolves to Roserade (with Shiny Stone)
| | | |
| --- | --- | --- |
| Budew | with Friendship | Roselia |
| with Shiny Stone | Roserade | |
Roselia Pokédex Entries / Games
Ruby and Sapphire  2002
FireRed, LeafGreen  2004
Pokémon Emerald  2004
Diamond and Pearl  2006
Platinum  2008
HeartGold and SoulSilver  2009
Pokémon Black and White  2011
Black 2 and White 2  2012
Pokémon X and Y  2014   
Omega Ruby, Alpha Sapphire  2015 
Sword and Shield  2019
Brilliant Diamond, Shining Pearl  2021
Legends Arceus  2022
Roselia Card List – (scroll to bottom for gallery view)
EX Dragon 2003

Stage – Basic
HP – 60
Speciality – None
Card Number – 9/97
EX Legend Maker 2006

Stage – Basic
HP – 60
Speciality – None
Card Number – 42/92
Diamond and Pearl Base Set 2007

Stage – Basic
HP – 70
Level – 31
Card Number – 96/130
DP Secret Wonders 2007


Stage – Basic
HP – 70
Level – 32
Card Number – 62/132
DP Stormfront 2008


Stage – Basic
HP – 70
Level – 27
Card Number – 72/100
Platinum Supreme Victors 2009

Stage – Basic
HP – 60
Level – 17
Card Number – 123/147
HGSS Unleashed 2010

Stage – Basic
HP – 60
Speciality – None
Card Number – 61/95
BW Dragons Exalted 2012

Stage – Basic
HP – 70
Speciality – None
Card Number – 12/124

Stage – Basic
HP – 70
Speciality – None
Card Number – 13/124
XY Flashfire 2014


Stage – Basic
HP – 60
Speciality – None
Card Number – 8/106
SM Ultra Prism 2018

Stage – Basic
HP – 70
Speciality – None
Card Number – 4/156
Sword and Shield Base Set 2020

Stage – Basic
HP – 70
Speciality – None
Card Number – 002/202
Stage – Basic
HP – 70
Speciality – None
Card Number – 003/202
SWSH Lost Origin 2022


Stage – Basic
HP – 70
Speciality – None
Card Number – 014/196
Gallery