Meowstic Pokédex Information
Meowstic first appeared in the games Pokémon X and Y which released in Worldwide on October 12th 2013. 
This Pokémon is based on a cat but is two-legged. In male form its body and limbs are blue with white fingers and toes and it has a large blue bushy tail with white markings. It has large green eyes and a small nose and mouth. Revealing the eyelike patterns on the insides of its ears will unleash its psychic powers. It normally keeps the patterns hidden, however.
In female form this Pokémon has a white head and ears. It has a swirl of blue fur on its head that resembles a beret. It also has long white fur on its body that resembles a short sleeved dress. Females are a bit more selfish and aggressive than males. If they don't get what they want, they will torment you with their psychic abilities.
Contents
Meowstic Pokédex Facts
Evolutions
Meowstic Pokédex Entries
TCG Cards
Meowstic Pokédex Facts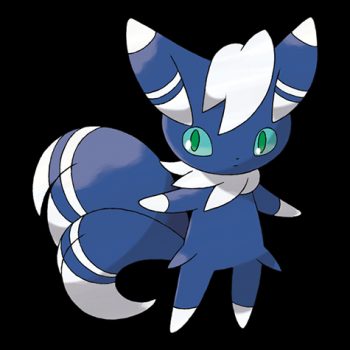 English Name – Meowstic
Japanese Name – Nyaonikusu
First Appearance – 2014 (Pokémon X and Y)
Based on – Cat
Generation – VI
Pokédex Number – 678
Male Form
Category – Constraint
Height – 0.6 m
Weight – 8.5 kg
Gender – Male
Type – Psychic
Weakness – Bug, Dark, Ghost
Special Ability – Infiltrator, Keen Eye
Female Form
Category – Constraint
Height – 0.6 m
Weight – 8.5 kg
Gender – Male
Type – Psychic
Weakness – Bug, Dark, Ghost
Special Ability – Infiltrator, Keen Eye
Espurr Evolutions
Evolution – Espurr evolves to Meowstic (level 25)
Espurr Pokédex Entries / Games
Pokémon X and Y 2014 
Omega Ruby, Alpha Sapphire 2015
Sword and Shield  2019 
Espurr Card List – (scroll to bottom for gallery view)
XY Promo Cards 2013 – 2016


Stage – 1
HP –  90
Speciality – None
Card Number – XY48
XY Flashfire 2014


Stage – 1
HP –  90
Speciality – None
Card Number – 43/106
XY BREAKPoint 2016


Stage – 1
HP –  90
Speciality – None
Card Number – 59/122
XY Generations 2016

Stage – 1
HP –  160
Speciality – EX
Card Number – 37/83
Stage – 1
HP –  90
Speciality – None
Card Number – RC15/RC32
SM Forbidden Light 2018


Stage – 1
HP – 90
Speciality – None
Card Number – 45/131
SM Unbroken Bonds 2019


Stage – 1
HP – 90
Speciality – None
Card Number – 80/214
SWSH Battle Styles 2021


Stage – 1
HP – 90
Speciality – None
Card Number – 061/163
SWSH Silver Tempest 2022

Stage – 1
HP – 90
Speciality – None
Card Number – 082/195
Gallery