Mimikyu Pokédex Information
Mimikyu is a Ghost / Fairy type Pokémon that first appeared in the games Pokémon Sun and Moon which released in November 2016. 
Mimikyu may be based on a doll or a ghost costume.  It is very small and is covered with a light brown cloth that appears to be stuffed at the top and then tied so the top resembles a head with ears. Mimikyu's eyes can be seen peering out of two holes in the lower half of its covering, while facial features resembling Pikachu have been crudely drawn on the top. This Pokémon lives in dark places untouched by sunlight. When it appears before humans, it hides itself under a cloth that resembles a Pikachu.
Contents
Mimikyu Pokédex Facts
Evolutions
Mimikyu Pokédex Entries
TCG Cards
Mimikyu Pokédex Facts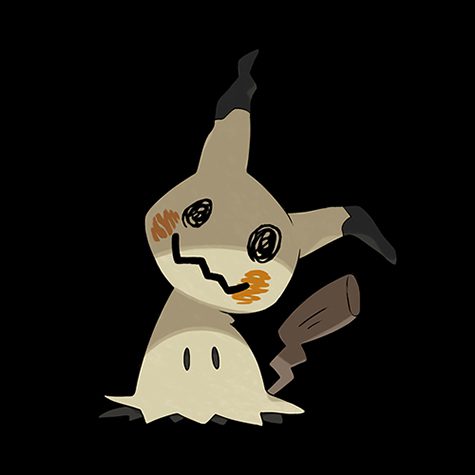 English Name – Mimikyu
Japanese Name – Mimikkyu
First Appearance – 2016 (Sun & Moon)
Generation – VII
Pokédex Number – 0778
Based on – Doll / Ghost Costume
Category – Disguise
Height – 0.2 m
Weight – 0.7 kg
Gender – Male and Female
Primary Type – Ghost
Secondary Type – Fairy
Weakness – Ghost, Steel
Special Ability – Disguise
Mimikyu Evolutions
Evolution – Mimikyu does not evolve
Mimikyu Pokédex Entries / Games
Sun & Moon 2016
Ultra Sun and Ultra Moon 2018
Sword and Shield  2019
Scarlet and Violet 2022
Mimikyu Card List – (scroll to bottom for gallery view)
Sun and Moon Promo Cards 2017 – 2019


Stage – Basic
HP – 70
Speciality – None
Card Number – SM29
Stage – Basic
HP – 70
Speciality – None
Card Number – SM99

Stage – Basic
HP – 70
Speciality – None
Card Number – SM163
SM Guardians Rising 2017

Stage – Basic
HP – 70
Speciality – None
Card Numbers – 58/145
SM Lost Thunder 2018

Stage – Basic
HP – 170
Speciality – GX
Card Number – 149/214
Stage – Basic
HP – 170
Speciality – GX
Card Number – 206/214

Stage – Basic
HP – 170
Speciality – GX
Card Number – 226/214
SM Team Up 2019

Stage – Basic
HP – 70
Speciality – None
Card Number – 112/181

Gengar & Mimikyu
Stage – Basic
HP – 240
Speciality – GX
Card Number – 53/181
Gengar & Mimikyu
Stage – Basic
HP – 240
Speciality – GX
Card Number – 164/181
Gengar & Mimikyu
Stage – Basic
HP – 240
Speciality – GX
Card Number – 165/181
Gengar & Mimikyu
Stage – Basic
HP – 240
Speciality – GX
Card Number – 186/181
SM Cosmic Eclipse 2019


Stage – Basic
HP – 70
Speciality – None
Card Number – 96/236
Stage – Basic
HP – 70
Speciality – None
Card Number – 97/236

Stage – Basic
HP – 70
Speciality – None
Card Number – 245/236
Sword and Shield Promo Cards 2020 – 


Stage – Basic
HP – 70
Speciality  – None
Form – Delta Species
Card Number – SWSH136
SWSH Darkness Ablaze 2020

Stage – Basic
HP – 70
Speciality  – None
Card Number – 081/189
SWSH Battle Styles 2021


Stage – Basic
HP – 110
Speciality  – V
Card Number – 062/163

Stage – Basic
HP – 110
Speciality  – V
Card Number – 148/163
SWSH Lost Origin 2022

Stage – Basic
HP – 70
Speciality  – None
Card Number – 080/196
Scarlet and Violet Promo Cards 2023


Stage – Basic
HP – 190
Speciality  – ex
Card Number – SVP004

Stage – Basic
HP – 70
Speciality  – None
Card Number – SVP075
SV Paldea Evolved 2023


Stage – Basic
HP – 70
Speciality – None
Card Number – 097/193
Gallery