What is the Miraidon ex League Battle Deck?
The Miraidon ex League Battle Deck is scheduled for release on 17th November 2023 with a recommended retail price for the box is  £29.99 in the UK and $29.99 in the US.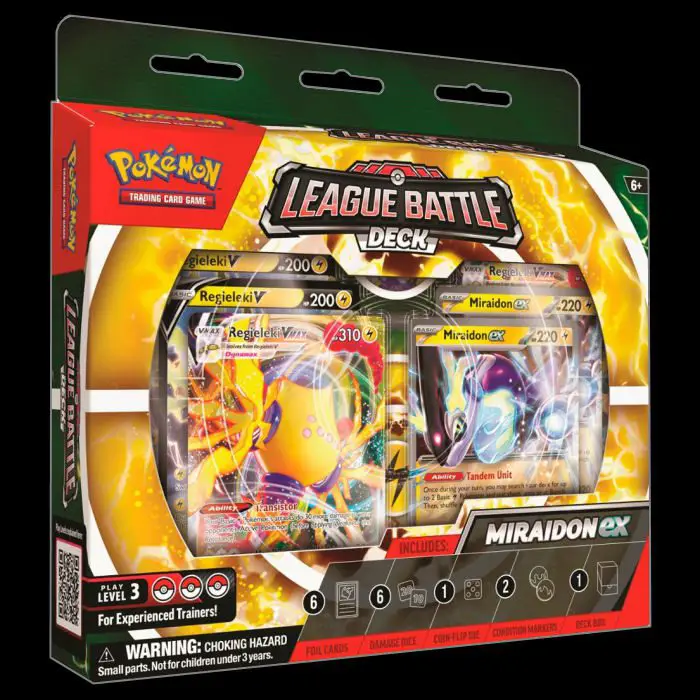 Battle Decks and Theme decks are produced with gamers in mind. They include a selection of cards that make up a ready-to-play themed deck. League Battle decks re released twice a year, generally in the Spring and Autumn. They are designated Play Level 3 meaning they are aimed at more experienced players.
Miraidon has proved to be a popular Generation IX Pokémon and Miraidon ex cards often feature in players' decks.
The artwork for front of the box features a yellow / gold circle that is flecked with white making it resemble molten gold. The circle is outlined in white with two white horizontal lines in a Poké Ball type design.
The box dimensions have not yet been released but similar products have measured 20 cm (8 inches) x 23 cm (9 inches) x 4.5 cm (2 inches).
What is in the Miraidon ex League Battle Deck?
The contents of the box has been revealed. Each box will contain:
A full, playable 60-card deck loaded with powerful cards
2 foil cards featuring Miraidon ex
2 foil cards featuring Regieleki V
2 foil cards featuring Regieleki VMAX
1 deck box
2 coin condition markers
6 damage-counter dice and 1 competition-legal coin-flip dice
1 Pokemon TCG rulebook
1 Quick Guide to unlock the strategies within
A code card for Pokemon TCG Live
Miraidon ex Deck List
2 x Miraidon ex
2 x Regieleki VMAX
2 x Regieleki V
2 x Regieleki
2 x Zeraora
2 x Bibarel
2 x Bidoof
4 x Arven
4 x Boss's Orders (Ghetsis)
4 x Professor's Research (Turo)
4 x Electric Generator
3 x Nest Ball
2 x Switch
4 x Ultra Ball
1 x Forest Seal Stone
1 x Leafy Camo Poncho
2 x Vitality Band
2 x Beach Court
15 x Basic Lightning Energy