What is the Marnie Premium Tournament Collection Box?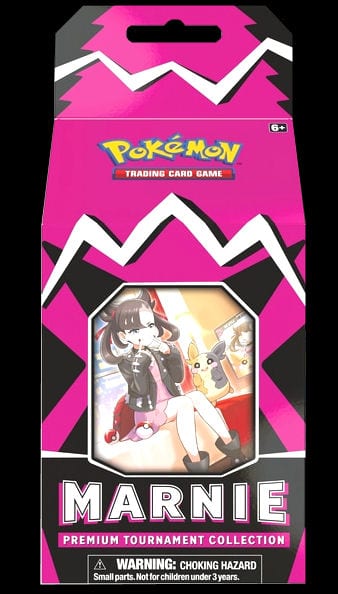 The Marnie Premium Tournament Collection Box was released on 6th August 2021. It is the first of this type of product and going by its success it is likely that similar products will follow.
Measuring 35.5 cm (14 inches) by 17 cm (6.75 inches), the packaging is coloured shocking pink with black and white zig-zag art features. This new Tournament Collection Box was so popular that it sold out long before release date. Most stockists sold the set on presale for around £40 – £45 ($55 – $60). 
Why has this new product been released?
Looking at the contents and the price point, this new Marnie Premium Tournament Collection box appears very similar to an Elite Trainer box. The only major difference is that it includes 4 promo cards. 
It is unusual to have Trainer cards as promo cards so these will be highly collectible. Marnie is also a popular Trainer and considered a Waifu trainer which will increase the collectability of this set.  However, Marnie is also a good card to have when playing the Trading Card Game and will appeal to gamers. 
Overall, it seems that Pokémon have gone all out to produce a product that will appeal to collectors and gamers alike. This is a smart business move since it has proved to be in exceptionally high demand.  
What is in the Box?
The box contains:
1  x Marnie Full Art shiny promo card SWSH121
3 x Marnie signed cosmos holo promo card SWSH120
7 x Booster Packs –
1 x Darkness Ablaze
1 x Vivid Voltage
2 x Battle Styles
3 x Chilling Reign
1 x set of 65 matt effect card sleeves featuring Marnie
1 x Deck box with Marnie artwork featuring Morpeko
6 x pink damage counter dice.
2 x standard marker coins
1 x Marnie coin
1 x code card for the online game