Pachirisu Pokédex Information
Pachirisu first appeared in the game Pokémon Diamond and Pearl which released in Japan on September 28th 2006. 
This Pokémon is a two-legged character that is based on a squirrel. It is mainly white but has blue ears and a blue stripe from its head to the tip of its tail. It also has two yellow spots on its cheek. It makes fur balls that crackle with static electricity. It stores them with berries in tree holes.
Contents
Pachirisu Pokédex Facts
Evolutions
Pachirisu Pokédex Entries
TCG Cards
Pachirisu Pokédex Facts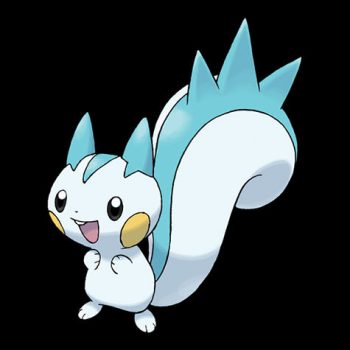 English Name – Pachirisu
Japanese Name – Pachirisu
First Appearance – 2006 (Pokémon Diamond and Pearl)
Based on – Squirrel
Generation – IV
Pokédex Number – 417
Category – Elesquirrel
Height – 0.4 m
Weight – 3.9 kg
Gender – Male, Female
Type – Electric
Weakness – Ground
Special Abilities – Pick Up, Run Away
Pachirisu Evolutions
Evolution – Pachirisu does not evolve      
Pachirisu Pokédex Entries / Games
Diamond and Pearl  2006
Platinum  2008
HeartGold and SoulSilver  2009
Pokémon Black and White  2011
Black 2 and White 2  2012
Pokémon X and Y  2014   
Omega Ruby, Alpha Sapphire  2015  
Brilliant Diamond, Shining Pearl  2021
Legends Arceus  2022
Pachirisu Card List – (scroll to bottom for gallery view)
Diamond and Pearl Promo Cards 2007 – 2009

Stage – Basic
HP – 70
Level -23
Card Number – DP04
Diamond and Pearl Base Set 2007


Stage – Basic
HP – 70
Level -23
Card Number – 35/130
POP Series 6 2007

Stage – Basic
HP – 70
Level -23
Card Number – 4/17
DP Great Encounters  2008

Stage – Basic
HP – 70
Level – 30
Card Number – 5/106
DP Majestic Dawn 2008

Stage – Basic
HP – 70
Level – 25
Card Number – 43/100
POP Series 9  2009


Stage – Basic
HP – 70
Level – 20
Card Number – 10/17
Platinum Supreme Victors 2009


Stage – Basic
HP – 60
Level – 14
Card Number – 118/147
HGSS Call of Legends 2011

Stage – Basic
HP – 60
Speciality – None
Card Number – 18/95
BW Plasma Freeze 2013

Stage – Basic
HP – 70
Speciality – None
Card Number – 37/116
XY Phantom Forces 2014


Stage – Basic
HP – 70
Speciality – None
Card Number – 25/119
SM Ultra Prism 2018

Stage – Basic
HP – 70
Speciality – None
Card Number – 49/156
SM Lost Thunder 2018

Stage – Basic
HP – 80
Speciality – None
Card Number – 80/214
SWSH Battle Styles 2021

Stage – Basic
HP – 70
Speciality – None
Card Number – 049/163
SWSH Brilliant Stars 2022

Stage – Basic
HP – 70
Speciality – None
Card Number – 052/172
Gallery