Palkia Pokédex Information
Palkia is a Water / Dragon type Pokémon that first appeared in the games Pokémon Diamond and Pearl which released in Japan on September 28th 2006. Together with Dialga and Giratina it forms the Legendary Creation Trio. It does not evolve.
This Pokémon is a very large creature that is thought to be based on a dragon. It mostly appears in altered forme but can also be seen in origin forme.
In altered forme it is two-legged and predominantly grey with purple markings. It has a large head which merges into its wings. It has sharp claws on its feet and arms and the point where its head and wings join is covered with a round shield. It is said to live in a gap in the spatial dimension parallel to ours and appears in mythology.
In origin forme  it appears as a four-legged creature that resembles a horse. It has two round shields at its shoulders and wings on its back. It soars across the sky in a form that greatly resembles the creator of all things. Perhaps this imitation of appearance is Palkia's strategy for gaining Arceus's powers.
Contents
Palkia Pokédex Facts
Evolutions
Palkia Pokédex Entries
TCG Cards
Palkia Pokédex Facts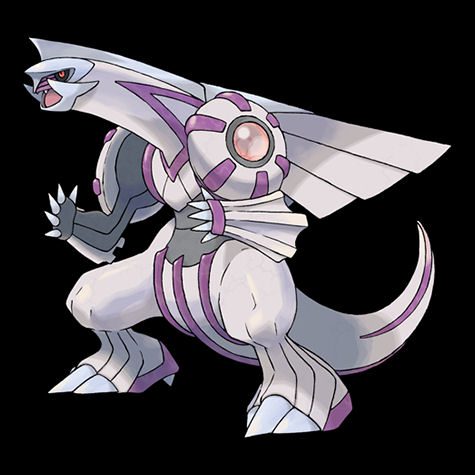 English Name – Palkia
Japanese Name – Parukia
First Appearance – 2010 (Pokémon Black and White)
Generation – IV
Pokédex Number – 0484
Based on – Dragon
Alternate Forme
Category – Spatial
Height – 4.2 m
Weight – 336 kg
Gender – Unknown
Primary Type –  Water
Secondary Type – Dragon
Weakness – Dragon, Fairy
Special Ability – Pressure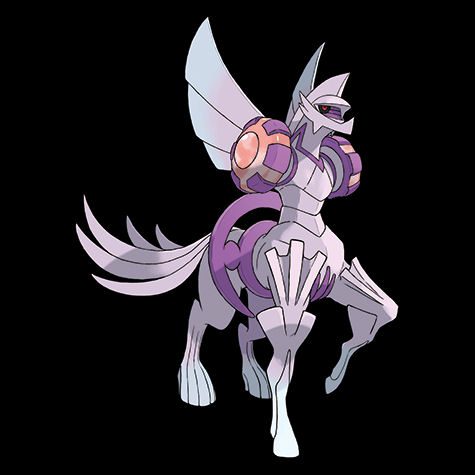 Origin Forme
Category – Spatial
Height – 6.3 m
Weight – 660 kg
Gender – Unknown
Primary Type –  Water
Secondary Type – Dragon
Weakness – Dragon, Fairy
Special Ability – Pressure
Palkia Evolutions
Evolution – Palkia does not evolve
Palkia Pokédex Entries / Games
Diamond and Pearl  2006
Platinum  2008
HeartGold and SoulSilver  2009
Pokémon Black and White  2011
Black 2 and White 2  2012
Pokémon X and Y  2014   
Omega Ruby, Alpha Sapphire  2015  
Brilliant Diamond, Shining Pearl  2021
Legends Arceus  2022
Palkia Card List – (scroll to bottom for gallery view)
Diamond and Pearl Promo Cards 2007 – 2009

Stage – Level Up
HP –  120
Level – Lv.X
Card Number – DP18
Stage – Basic
HP –  90
Level – 67
Card Number – DP27
DP Great Encounters 2008


Stage – Basic
HP –  90
Level – 67
Card Number – 26/106
Stage – Level Up
HP –  120
Level – Lv.X
Card Number – 106/106
DP Majestic Dawn 2008

Stage – Basic
HP –  100
Level – 62
Card Number – 11/100
Platinum Base Set 2009


Stage – Basic
HP –  100
Level – 78
Card Number – 12/127

Stage – Basic
HP –  100
Level – 72
Card Number – 37/127

Stage – Level Up
HP –  120
Level – Lv.X
Card Number – 125/127
HGSS Triumphant 2010

Palkia & Dialga Top
Stage – Legend
HP –  160
Card Number – 101/102

Palkia & Dialga Bottom
Stage – Legend
HP –  160
Card Number – 102/102
HGSS Call of Legends 2011

Stage – Basic
HP –  100
Speciality – None
Card Number – 19/95

Stage – Basic
HP –  100
Speciality – None
Card Number – SL8
BW Plasma Blast 2013

Stage – Basic
HP –  180
Speciality – EX
Card Number – 66/101

Stage – Basic
HP –  180
Speciality – EX
Card Number – 100/101
XY Promo Cards 2014 – 2016

Stage – Basic
HP –  120
Speciality – None
Card Number – XY75
XY BREAKPoint 2016

Stage – Basic
HP –  180
Speciality – None
Card Number – 31/122
SM Shining Legends 2017

Stage – Basic
HP –  130
Speciality – None
Card Number – 24/73
SM Ultra Prism 2018

Stage – Basic
HP –  180
Speciality – GX
Card Number – 101/156
Stage – Basic
HP –  180
Speciality – GX
Card Number – 147/156
Stage – Basic
HP –  180
Speciality – GX
Card Number – 165/156
SM Forbidden Light 2018

Stage – Basic
HP –  180
Speciality – GX
Card Number – 20/131

Stage – Basic
HP –  180
Speciality – GX
Card Number – 119/131
Stage – Basic
HP –  180
Speciality – GX
Card Number – 132/131
SM Cosmic Eclipse 2019

Arceus & Dialga & Palkia
Stage – Basic
HP –  280
Speciality – Tag Team
Card Number – 156/236
Arceus & Dialga & Palkia
Stage – Basic
HP –  280
Speciality – Tag Team
Card Number – 220/236

Arceus & Dialga & Palkia
Stage – Basic
HP –  280
Speciality – Tag Team
Card Number – 221/236
Arceus & Dialga & Palkia
Stage – Basic
HP –  280
Speciality – Tag Team
Card Number – 258/236
Sword and Shield Promo Cards 2020 – 2023

Stage – Basic
HP –  220
Speciality – V
Card Number – SWSH253
Stage – VSTAR
HP –  280
Speciality – VSTAR
Card Number – SWSH254
SWSH Celebrations 2021


Stage – Basic
HP –  130
Speciality – None
Card Number – 004/025
SWSH Astral Radiance 2022


Origin Forme
Stage – Basic
HP –  220
Speciality – V
Card Number – 039/189
Origin Forme
Stage – VSTAR
HP –  280
Speciality – VSTAR
Card Number – 040/189
Origin Forme
Stage – Basic
HP –  220
Speciality – Radiant
Card Number – 167/189
Stage – VSTAR
HP –  280
Speciality – VSAR
Card Number – 192/189
Stage – VSTAR
HP –  280
Speciality – VSAR
Card Number – 208/189
SWSH Crown Zenith 2023


Stage – VSTAR
HP –  280
Speciality – VSAR
Card Number – GG67/GG70
SV Paradox Rift 2023


Stage – Basic
HP – 130
Speciality – None
Card Numbers – 040/182
Gallery