Pansear Pokédex Information
Pansear is a Fire type Pokémon that first appeared in the game Pokémon Black and White which released in Japan on September 18th 2010. It evolves to Simisear.
This Pokémon is a two-legged character that is based on a monkey. It has a red lower body legs, head and ears. Its face, upper body and arms are cream coloured. It has big eyes and a wide mouth. It is very intelligent and roasts berries before eating them. It likes to help people.
Contents
Pansear Pokédex Facts
Evolutions
Pansear Pokédex Entries
Pokémon TCG Cards
Pansear Pokédex Facts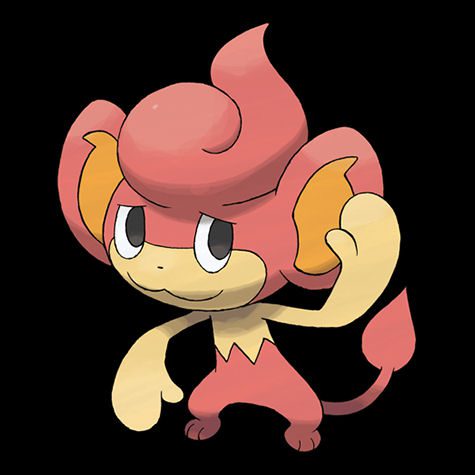 English Name – Pansear
Japanese Name – Baoppu
First Appearance – 2010 (Pokémon Black and White)
Generation – V
Based on – Monkey
Pokédex Number – 0513
Category – High Temp
Height – 0.6 m
Weight – 11 kg
Gender – Male and Female
Type –  Fire
Weakness – Ground, Rock, Water
Special Ability – Gluttony
Pansear Evolutions
Evolution – Pansear evolves to Simisear (with Fire Stone)
| | | |
| --- | --- | --- |
| Pansear | Fire Stone | Simisear |
Pansear Pokédex Entries / Games
Pokémon Black and White  2011
Black 2 and White 2  2012
Pokémon X and Y  2014   
Omega Ruby, Alpha Sapphire  2015  
Pansear Cards List – (scroll to bottom for gallery view)
Black and White Base Set 2011


Stage – Basic
HP –  60
Speciality – None
Card Number – 21/114
BW Emerging Powers 2011

Stage – Basic
HP –  70
Speciality – None
Card Number – 18/98
BW Noble Victories 2011


Stage – Basic
HP –  70
Speciality – None
Card Number – 16/101
BW Next Destinies 2012


Stage – Basic
HP –  70
Speciality – None
Card Number – 15/99
BW Plasma Storm 2013


Stage – Basic
HP –  70
Speciality – None
Card Number – 19/135
XY Kalos Starter Set 2013


Stage – Basic
HP –  70
Speciality – None
Card Number – 7/39
XY Promo Cards 2014 – 2016

Stage – Basic
HP –  60
Speciality – None
Card Number – XY131
XY Base Set 2014

Stage – Basic
HP –  60
Speciality – None
Card Number – 22/146
XY BREAKThrough 2015

Stage – Basic
HP –  60
Speciality – None
Card Number – 23/162
SM Burning Shadows 2017


Stage – Basic
HP –  60
Speciality – None
Card Number – 22/147
SWSH Darkness Ablaze 2020

Stage – Basic
HP –  60
Speciality – None
Card Number – 026/189
SWSH Fusion Strike 2021

Stage – Basic
HP –  60
Speciality – None
Card Number – 037/264
SV Paradox Rift 2023

Stage – Basic
HP –  70
Speciality – None
Card Number – 020/182
Gallery