Petilil Pokédex Information
Petilil first appeared in the game Pokémon Black and White which released in Japan on September 18, 2010. 
This Pokémon is a small green character based on a plant bulb. Its head and base are light green and its face is white. It has a green leafy ruff around its neck and three green leaves sprouting from the top of its head. Petilil appears around sources of clean water. Boiling leaves from this Pokémon's head results in a liquid that's sometimes used as a bug repellent.
Contents
Petilil Pokédex Facts
Evolutions
Petilil Pokédex Entries
TCG Cards
Petilil Pokédex Facts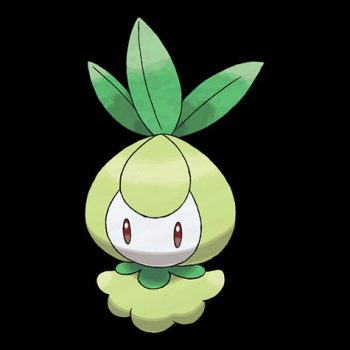 English Name – Petilil
Japanese Name – Churine
First Appearance – 2010 (Pokémon Black and White)
Based on – Plant Bulb
Generation – V
Pokédex Number – 548
Category – Bulb
Height – 0.5 m
Weight – 6.6 kg
Gender – Female
Type – Grass
Weakness – Bug, Fire, Flying, Ice, Poison
Special Ability – Chlorophyll, Own Tempo
Petilil Evolutions
Evolution – Petilil evolves to Lilligant (with Sun Stone)
Petilil Pokédex Entries / Games
Pokémon Black and White  2010
Black 2 and White 2  2012
Pokémon X and Y  2014 
Omega Ruby, Alpha Sapphire  2015 
Sun and Moon  2016  
Ultra Sun and Ultra Moon  2017  
Sword and Shield  2019 
Pokémon Legends Arceus  2022
Petilil Card List – (scroll to bottom for gallery view)
Black and White Base Set 2011

Stage – Basic
HP –  50
Speciality – None
Card Number – 9/114
BW Emerging Powers 2011

Stage – Basic
HP –  50
Speciality – None
Card Number – 13/98
BW Noble Victories 2012


Stage – Basic
HP –  60
Speciality – None
Card Number – 4/101
BW Boundaries Crossed 2012

Stage – Basic
HP –  50
Speciality – None
Card Number – 16/149
XY BREAKPoint 2016


Stage – Basic
HP –  50
Speciality – None
Card Number – 7/122
<>SM Guardians Rising 2017


Stage – Basic
HP –  50
Speciality – None
Card Number – 4/145 <>SWSH Evolving Skies 2021


Stage – Basic
HP –  60
Speciality – None
Card Number – 009/203
SWSH Astral Radiance 2022


Stage – Basic
HP –  50
Speciality – None
Card Number – 015/189
SWSH Silver Tempest  2022

Stage – Basic
HP –  50
Speciality – None
Card Number – 009/195
Gallery