Piloswine Pokédex Information
Piloswine is an Ice / Ground type Pokémon that first appeared in the games Pokémon Gold and Silver which were released in Japan in November 1999. 
It is a four-legged character, covered in long, shaggy fur that is based on a pig and a woolly mammoth. Most of its features are obscured by its fur, but its pink snout and long tusks can be seen. If it charges at an enemy, the hairs on its back stand up straight. It is very sensitive to sound.
Contents
Piloswine Pokédex Facts
Evolutions
Piloswine Pokédex Entries
TCG Cards
Piloswine Pokédex Facts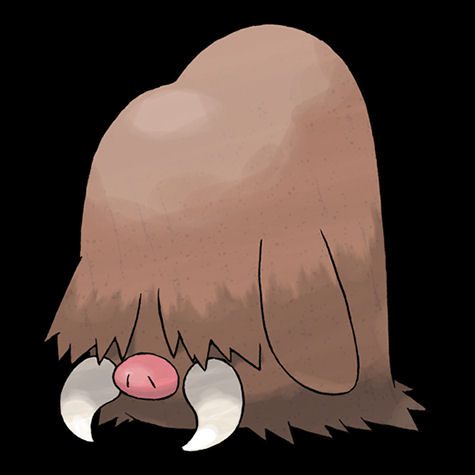 English Name – Piloswine
Japanese Name – Inomū
First Appearance – 1999 (Pokémon Gold and Silver)
Based on – Mammoth / Pig
Generation – II
Pokédex Number – 0221
Category – Swine
Height – 1.1 m
Weight – 55.8 kg
Gender – Male, Female
Primary Type –  Ice
Secondary Type – Ground
Weakness – Fighting, Fire, Grass, Steel, Water
Special Abilities – Oblivious, Snow Cloak
Piloswine Evolutions
Evolution – Swinub evolves to Piloswine (level 33); evolves to Mamoswine (level up + Ancient Power)
| | | |
| --- | --- | --- |
| Swinub | Level 33 | Piloswine |
| Level Up with Ancient Power | Mamoswine | |
Piloswine Pokédex Entries / Games
Gold and Silver  1999
Pokémon Crystal 2000
Pokémon Stadium 2 2000
Ruby and Sapphire  2002
Pokémon Emerald  2004
FireRed and LeafGreen  2005
Diamond and Pearl  2006
Platinum  2008
HeartGold and SoulSilver  2009
Pokémon Black and White  2011
Black 2 and White 2  2012 
Pokémon X and Y  2013
Omega Ruby, Alpha Sapphire  2015  
Sword and Shield 2019
Brilliant Diamond, Shining Pearl  2021
Legends Arceus 2022
Piloswine Card List – (scroll to bottom for gallery view)
Neo Genesis 2000


Stage – 1
HP –  80
Speciality – None
Card Number – 44/111
Neo Revelation 2001

Stage – 1
HP –  90
Speciality – None
Card Number – 36/64
Neo Destiny 2002

Stage – 1
HP –  90
Speciality – None
Card Number – 26/105
Skyridge 2003


Stage – 1
HP –  90
Speciality – None
Card Number – 24/144

Stage – 1
HP –  80
Speciality – None
Card Number – 43/144
Stage – 1
HP –  90
Speciality – None
Card Number – H22/H32
EX Team Rocket Returns 2004


Stage – 1
HP – 100
Speciality – None
Card Number – 13/109
DP Legends Awakened 2008


Stage – 1
HP – 100
Level – 35
Card Number – 69/146
DP Stormfront 2008


Stage – 1
HP – 90
Level – 34
Card Number – 46/100
HGSS Triumphant 2010


Stage – 1
HP – 100
Speciality – None
Card Number – 48/102
BW Plasma Storm 2013


Stage – 1
HP – 100
Speciality – None
Card Number – 27/135
XY BREAKThrough 2015

Stage – 1
HP – 100
Speciality – None
Card Number – 81/162
SM Crimson Invasion 2017


Stage – 1
HP –  100
Speciality – None
Card Number – 20/111
SWSH Astral Radiance 2022


Stage – 1
HP –  90
Speciality – None
Card Number – 032/189
Gallery