What is a Pokémon Collector's Chest?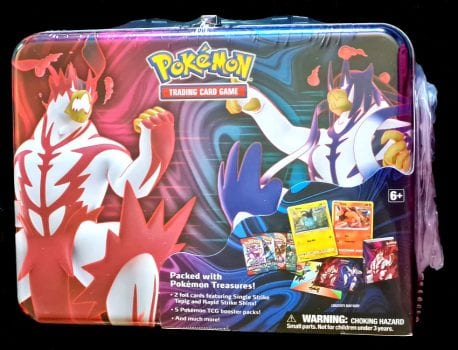 A Pokémon Collector's Chest is a sturdy lunch-box-style metal case containing a variety of Pokémon Trading Card game products.
The Collector's Chest Spring 2021 was released on 19th March 2021 as part of the Battle Styles expansion set release.
It measures 21 cm (8.2 inches) x 15.5 cm (6.1 inches) x 9 cm (3.5 inches) and has a recommended retail price of £26.99 ($38). 
The artwork on the outside of the chest features Single Strike Urshifu and Rapid Strike Urshifu. There is also an image depicting some of the contents of the chest. 
What is in the Collector's Chest Spring 2021?
The chest is sold covered in shrink-wrap plastic covering. Once this has been removed the chest can be opened using the clip by the handle. The contents are laid out on plastic insets.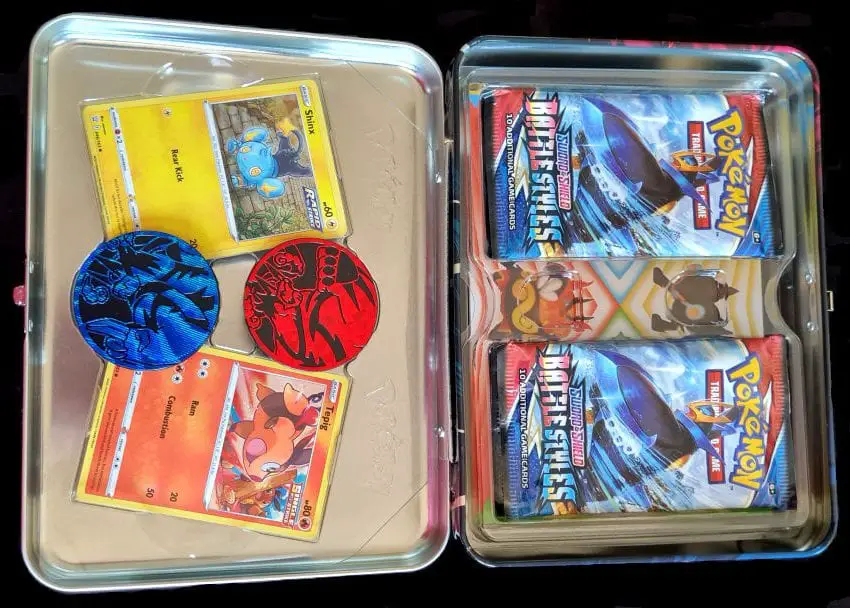 The contents of the Collectors Chest Spring 2021 are:
5 Booster Packs – 1 x Sun and Moon Base, 1 x Darkness Ablaze, 1 x Vivid Voltage, 2 x Battle Styles
2 Battle Styles Promo Cards (Cosmos Holo) – Single Strike Tepig 023/163 & Rapid Strike Shinx 046/163
4 Sheets of Pokémon stickers
2 Flip coins
A Mini card album
A Notepad featuring Urshifu
An Online code card