What is the Pokémon Go Team Special Collection?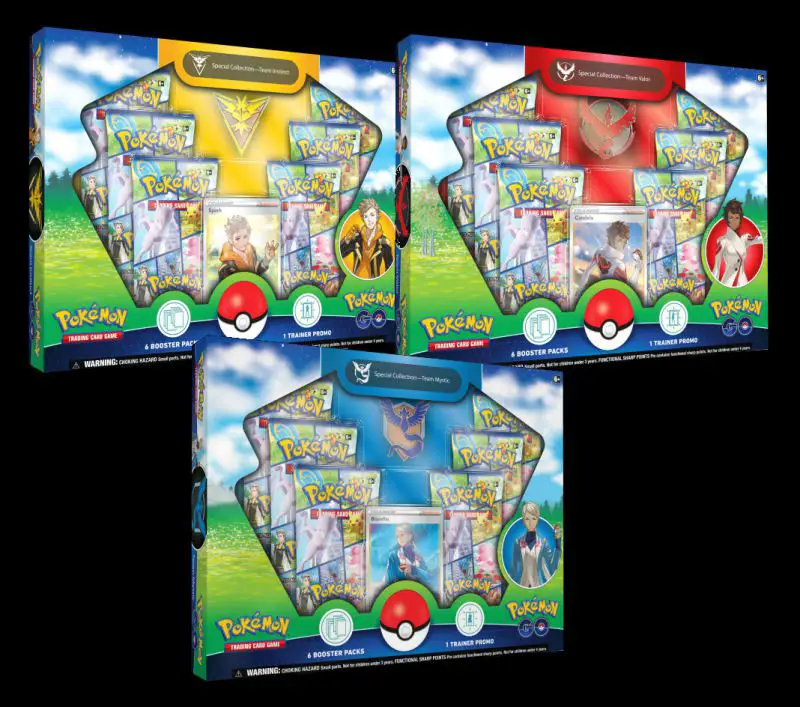 The Pokémon Go Team Special Collection is a set of three new products featuring Team Instinct, Team Mystic or Team Valor. They released on 7th July 2022. 
These three special collection boxes are part of the range of products that released from 1st July 2022 as part of the Pokémon Go Special Expansion set. 
The box artwork reflects the outdoor nature of the Pokémon Go game with a grassy meadow shown below a cloudy sky. The Pokémon Trading Card Game logo is depicted on the left and the Pokémon Go expansion set logo is on the right. A Poké Ball is depicted below the cut-out section of the box.
The Team Instinct box depicts the trainer Spark set against a yellow background, Team Mystic is led by Blanche who is set against a blue background, while Team Valor features Candela set against a red background.
The box dimensions have not been released but they are likely to be similar in size to V and VMAX collection boxes. The boxes are currently available for presale at around £32.50 in the UK and around $30.00 in the US. 
What is in a Pokémon Go Team Special Collection Box?
The contents of the boxes have been released:
A full-art foil promo card featuring Spark, Blanche, or Candela
A deluxe pin featuring the emblem of Team Instinct, Team Mystic, or Team Valor
6 Pokémon TCG: Pokémon GO booster packs
A code card usable in either the Pokémon TCG Online or Pokémon TCG Live