What are the Pokémon Go Tins?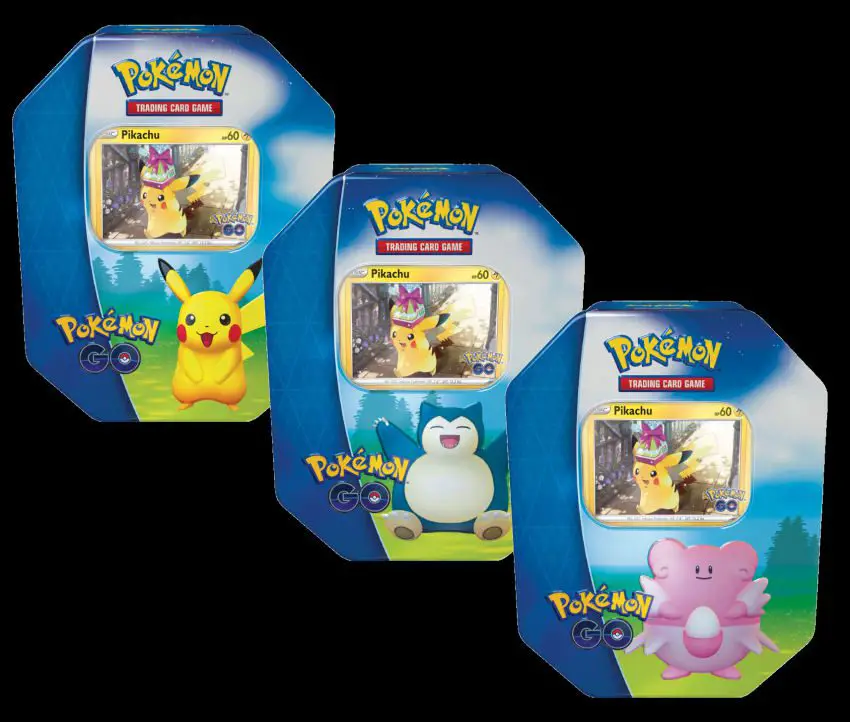 The Pokémon Go Tins are a set of three Pokémon collection tins featuring Pikachu, Snorlax and Blissey. They part of a range of products scheduled for release as part of the Pokémon Go expansion set.
The Pokémon Go expansion is being released from 1st July 2022 and the tins are marked to release on 15th July 2022. 
The artwork on the front of the tins reflects the outdoor nature of the Pokémon Go game with a grassy meadow shown below a cloudy sky. The featured Pokémon – Pikachu, Snorlax or Blissey are depicted at the bottom of the tin with the Pokémon Go logo to the side.
The tins are expected to retail for £21.99 in the UK and around $24.99 in the US.
What is inside the Pokémon Go Tins?
The contents of the tins have been released and each tin will contain:
1 foil promo card featuring Pikachu SWSH234
1 additional foil card featuring Pikachu, Snorlax, or Blissey
4 Pokémon TCG: Pokémon GO booster packs
1 sticker sheet
A code card for Pokémon TCG Live