What is a Trainer's Toolkit?
A Trainer's Toolkit is a box containing everything you need to get started with the Pokémon Trading Card Game. Icons on the top of the box give an indication of what is in the box. 
The box measures 25 cm (9.5 inches) x 11 cm (4.3 inches) x 8.5 cm (3.3 inches) and has a recommended retail price of £29.99 ($38). 
The Trainer's Toolkit 2021 is the second of this type of product, the first was produced in 2020. This makes it unique to the Sword and Shield expansion series. 
What is in the Trainer's Toolkit 2021?
After removing the film shrink wrap the outer sleeve can be removed and the box opened. 
The box contains:
1 sealed pack of 65 card sleeves
4 Booster Packs – 1 Sword and Shield base, 1 Vivid Voltage and 2 Chilling Reign
1 code card for the online game
A deck builder's guide book
A book of the rules of the Trading Card Game
A sealed pack of dice and 2 marker coins
1 sealed pack of 100 energy cards
1 sealed pack of 58 cards to build your deck (details below)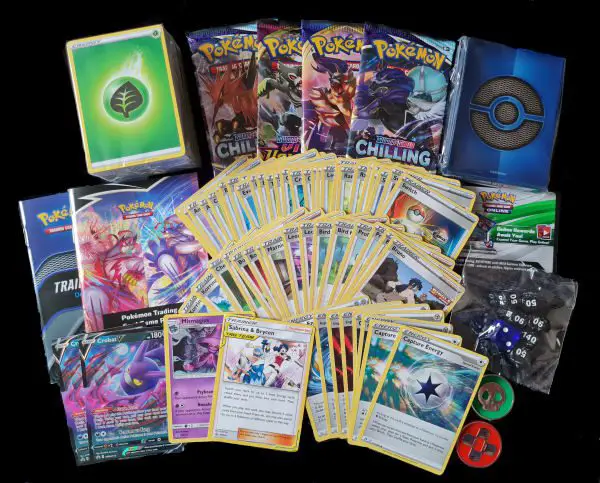 The contents of the Trainer's Toolkit 2021 sealed deck:
4 x Black Star Promo Cards:
   2 x Crobat V SWSH110
   1 x Mismagius SM245
   1 x Sabrina & Brycen SM246
8 x Special Energy Cards:
   2 x Capture Energy 171/192
   2 x Coating Energy 163/185
   2 x Single Strike Energy 141/163
   2 x Rapid Strike Energy 140/163
16 Trainer Supporter Cards:
   2 x Marnie 169/202
   2 x Bird Keeper 159/189
   2 x Leon 154/185
   2 x Boss's Orders 058/072
   2 x Professor's Research 060/072
   2 x Single Strike Bruno 121/163
   2 x Cheryl 123/163
   2 x Korrina's Focus 128/163
30 x Trainer Item Cards:
   2 x Air Balloon 156/202
   2 x Big Charm 158/202
   2 x Crushing Hammer 159/202
   2 x Evolution Incense 163/202
   2 x Metal Saucer 170/202
   2 x Ordinary Rod 171/202
   2 x Quick Ball 179/202
   2 x Rare Candy 180/202
   2 x Switch 183/202
   2 x Scoop Up Net 165/192
   2 x Cape of Toughness 160/189
   2 x Turbo Patch 172/189
   2 x Telescopic Sight 160/185
   2 x Escape Rope 125/163
   2 x Level Ball 129/163