What is the Quaquaval ex Premium Collection?
The Quaquaval ex Premium Collection is one of three new Collection Boxes scheduled for release on 9th February 2024. This box features Quaquaval, the final evolution of the Scarlet and Violet starter Pokémon, Quaxly while the others feature Meowscarada ex and Skeledirge ex. The box has an expected retail price of £49.99 in the UK and $49.99 in the US.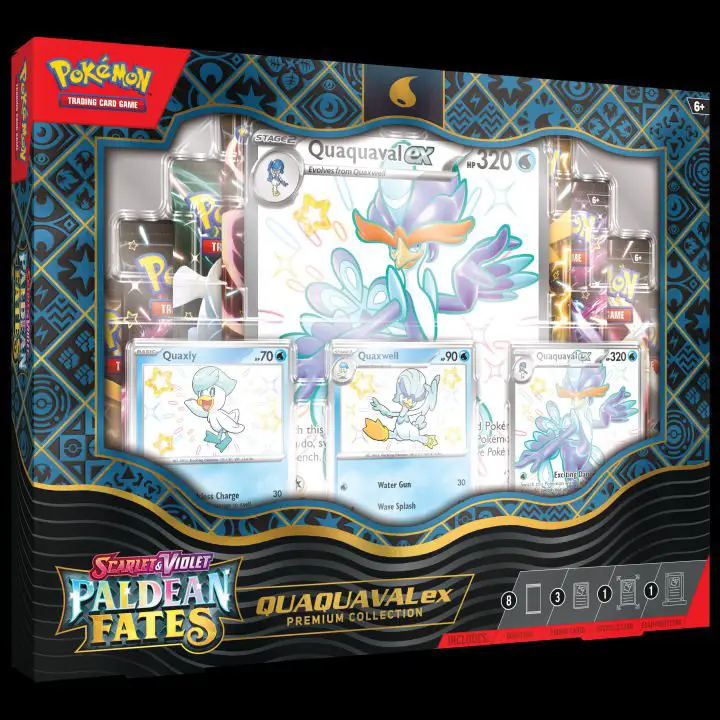 The Quaquaval ex Premium Collection is scheduled for release two weeks after the launch of the Paldean Fates expansion set.
The box dimensions have not been released but given that a Pokémon card is 6.3 cm wide we can assume the box is around 45cm by 25cm (18in by 10in). 
The artwork for the box features a cut out window, outlined blue, with the set diamond criss-cross lines surrounding various Pokémon motiffs against a blue background. The Paldean Fates logo is in the bottom left corner.
What are the contents of the Quaquaval ex Premium Collection Box?
The contents of the box have been revealed:
1 Quaquaval ex
1 oversize Quaquaval ex
1 Shiny Quaxwell
1 Shiny Quaxly
8 Paldean Fates booster packs
1 Magnetic 3 card protector
A code card for Pokémon TCG Live 
Is the Quaquaval ex Premium Collection good value for money?
The box contains one jumbo and one regular sized Quaquaval ex card from the Paldean Fates set, a Quaxly holo rare, a Quaxwell holo rare and 8 Booster packs.
Paldean Fates is a special expansion set and individual booster packs are not available to purchase individually. As a result they generally retail on selling sites such as Ebay, for around £4.50 in the UK and $4.50 in the US. The Quaquaval ex regular and Jumbo cards are full art shiny cards while the other two cards rare holo rare shinies. It would be expected that the two full art cards would fetch a minimum of £5.00 / $5.00 each while the two holo rare cards would fetch significantly less, maybe around £2 / $2. The magnetic card holder is likely to be worth around £4 / $4.
The Eight Booster packs would therefore cost £36 ($36) adding the expected value of the four cards takes the total to around £48.00 or $48.00 and if the card holder is worth £4 / $4 this would make the set worth around £52 / $52 which is slightly more than the recommended retail price of £49.99 / $49.99.